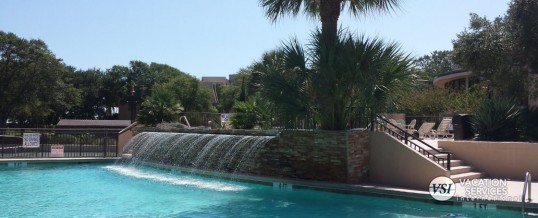 Location:
Hilton Head, SC
Our property, is monitored 24/7 by our Courtesy Team under the command of Kyle Hutcheon to ensure a peaceful stay for owners and guests alike. Our perfectly manicured grounds are tended by our in-house landscaping team under the guidance of our Landscaping Director, Jeff Laycock. The Island Club Property is self-managed, and the Property Manager, Ms. Patty Pearson, takes great pride in the appearance of the property and the work and effort of our employees. The property boasts 189 whole-ownership units. Most of these units are available to rent. For more information see Whole-Ownership or Contacts.
Weaving throughout our property under our two rustic, wooden bridges is a 13 acre catch and release stocked lagoon with bass, brim (aka. bluegill) and the occasional monster carp. It is also the aquatic home to our huge flock of ducks and several turtles – we aim to keep the pesky otters and alligators out of our lagoon. Also conveniently located on property are 9 tennis courts available for owners and guests to reserve through Island Club Tennis Center, as well as bike rentals, and an on-site exercise facility.
Directly behind the Atlantis, Neptune and Seawatch buildings is the beach and the sparkling Atlantic Ocean. The property is connected to the beach via five beach accesses, each equipped with a showering station. Grilling and picnic areas are located nearby, as well as throughout the rest of the property.
In the heart of the property is our Administrative and Rental Office building, "The Rotunda". It sits next to our three tiered pool area that includes a kiddie pool, lap pool, spa and tanning shelf.
For more details on the aforementioned amenities please see our "Amenities" section. We hope you'll take the Online Tours as they showcase our gorgeous home better than any words could.
Amenities:
3 pools
laundry
beach access
tennis
picnic shelters
exercise rooms
Availability For Sale