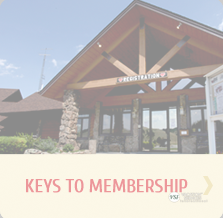 CELEBRATING 30+ YEARS
South Dakota's premier five-star RV and camping resort, Hart Ranch believes heart-felt relationships and a strong sense of community are the ties that bind us.
At Hart Ranch, family extends beyond four walls, and good old fashion values, like integrity and honesty, are a way of life.
We welcome first time visitors and lifetime members alike with open arms and the guarantee of tireless customer service 365 days a year.
SPANNING MORE THAN 195 ACRES
Located next to the winding Spring Creek, Hart Ranch Camping Resort offers a range of family activities and events throughout the year.
If splish-splashing in our Olympic sized pool isn't your thing, try kicking your boots into high gear with line dancing lessons or test your stealth and agility with an action-packed game of paintball!
Don't miss our summertime Legendary Hart Ranch Rodeo for live entertainment the whole family will enjoy. Between major events, we've been known to throw a '50s sock hop and even dig up buried treasure during our Hart Ranch themed weekends.
At the end of the week, when you're all tuckered out, come together at our Sunday morning church service for community and reflection.
CABINS, RV SITES, TENT CAMPING
We've got it all at Hart Ranch Camping Resort!
Stay in one of our 73 modern and furnished cabins with pet-friendly options, or park your RV on one of our 413 full hook-up or 48 partial hook-up RV sites. And if you prefer to sleep under the stars, we've got 24 spacious tent sites too!
Don't forget your friends and family back home! Stop by the Hart Mart to send a postcard, snag a Hart Ranch t-shirt, or just grab a few groceries for the road. On your way out, fill your gas tank with fuel from the Hart Mart 24 hour pump station and make sure your RV's in tip-top shape with our service center.
Availability For Sale