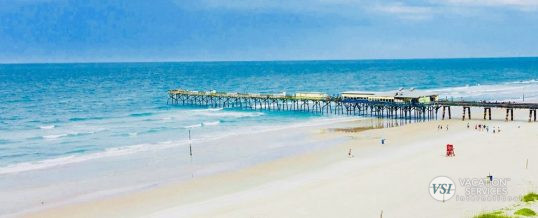 Atlantic Terrace Condominium is an oceanfront resort in Daytona Beach Shores, just south of Daytona Beach. This peaceful family-friendly community offers 5.5 miles of beaches on the Atlantic Ocean and caters to visitors by offering miniature golf courses, a Par 3 golf course, a museum, several parks and a tennis & recreation club. You might also enjoy a 1/2 mile walk down the beach to Crabby Joe's Deck & Grill where you can enjoy a meal, fish off the pier or just enjoy the view.
Some of the beaches in the Daytona area allow driving & parking on the beach, Daytona Beach Shores is one of those beaches. Please refer to Drive Safe, Play Safe for rules & regulations and safety tips for Daytona area beaches.
Just to the north, within minutes of Atlantic Terrace you will find Daytona Beach. This popular vacation spot features the Daytona Beach Boardwalk, Daytona International Speedway, the Daytona Tortugas baseball team, newly renovated Volusia Mall plus many more attractions. Other areas of interest that are close by include St. Augustine, New Smyrna Beach, Ponce de Leon Inlet Lighthouse & Museum, Kennedy Space Center, and Walt Disney World.
Atlantic Terrace Condominium offers accommodations for one to eight guests in their 1,500 sq. foot condos. Each condo has two bedrooms and two bathrooms and either one sleeper sofa or two depending on the guest occupancy. All condos have a view of the ocean, some are oceanfront and some are a side view. Make your reservations at this newly renovated resort today.
Availability For Sale