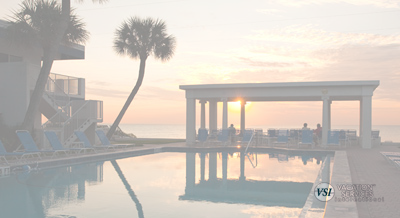 Location:
Bradenton Beach, FL
A serene beachfront Mediterranean enclave, Via Roma Beach Resort is laid-back and relaxed. Its white stucco buildings and Romanesque columns and statues are reminiscent of the Greek islands. Picturesque palm trees, sea oats and hibiscus trees lend a tropical flavor to this island hideaway.
This friendly beach resort is the perfect place to reflect on bygone days while creating everlasting memories for tomorrow. Take a morning stroll on the beach and collect the surf's overnight deposit of beautiful shells. Enjoy the afternoon with a leisurely game of shuffleboard or hop on a bike and tour Anna Maria Island. Refresh yourself with a swim in the beachfront pool or soak in the relaxing hot tub.
At the end of the day, kick back in lounge-chair comfort by the pool and absorb the spectacular sunset. Then, instead of going out for dinner, why not grill up that catch-of-the-day from your afternoon fishing adventure?
Via Roma is a small, intimate resort. Our staff is dedicated to making sure your vacation is everything you want it to be. We invite you to relax and unwind, but if you want to venture out, there are plenty of activities and attractions nearby.
Amenities:
grills
beach
laundry
internet
hot tub
outdoor pool