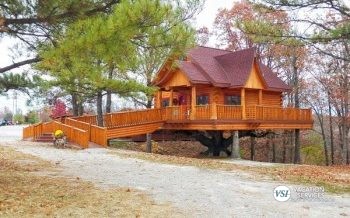 We are a visionary treehouse and log cabin resort community nestled on 133 beautifully wooded acres.  Located just 9 miles south of Branson, Missouri, on Hwy. 86 – we're adjacent to the entrance to Big Cedar Lodge & Top of the Rock, and only 1-1/2 miles from Hwy 65.
We wanted to create a wooded, park-like setting where you and your loved ones could come and relax, sit by the fire, lounge on your outdoor deck, bar-b-q on the grill, lay by the pool, sleep late – you get the idea!  One of the top comments we hear from our guests is:  "It's so peaceful here."
We believe in respecting Mother Nature and we do that by only clearing and cutting what's absolutely necessary.  You'll see all types of beautiful birds and critters on the grounds.  That's because we respect and understand their natural habitats and we try to disturb them as little as possible.
With 133 acres of pristine Ozark wilderness to enjoy – we have taken great care to insure that our vacation homes blend "into" the natural beauty of the area. Our choices for adding amenities is based on giving each guest not only great things to do & experience – but also to create that uncrowded feeling you sometimes are not able to get with the larger overbuilt resorts you find in tourist destinations.  Come experience Branson Cedars Resort and make your own special memories that will last a lifetime.
Availability For Sale