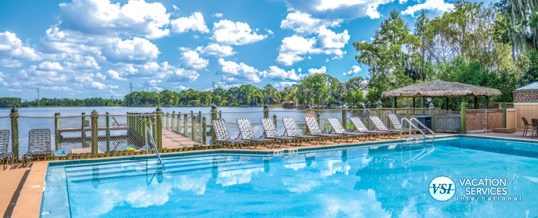 Old World serenity seamlessly blends with Orlando adventure at Bryan's Spanish Cove. Get back to nature in an idyllic setting only moments from the excitement of Orlando. Lose yourself in the warm palette of colors from a dock view sunset, or immerse yourself in the diverse offerings of Downtown Disney. Marvel at the high-flying feats of a Cirque du Soleil performance, play at high-tech Disney Quest, or enjoy a live band at House of Blues. Whether you choose to stay up past your bedtime at Pleasure Island or be a kid again at Walt Disney World® Resort, all this and more is only two miles away from your Florida resort.
Indulge in the Old World charm of this Mediterranean-style fishing village, nestled on the shores of majestic Lake Bryan. Relax by the pool while listening to the gentle sounds of the lake's waters and children's laughter. There's outdoor activity galore on land or water – and on the dock, beckoning you to escape on an adventure.
The resort is accredited in the Florida Department of Environmental Protection's (DEP) Florida Green Lodging program, which designates lodging facilities that commit to conserving and protecting Florida's natural resources.
Availability For Sale