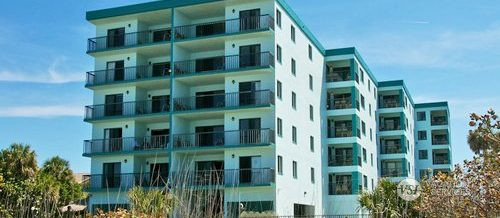 Discover the best of Florida's Gulf Coast at Camaron Cove, located on the Gulf of Mexico in the residential beach community of Indian Rocks Beach. The resort is convenient to all of the attractions of the Suncoast. Walk from the resort onto the sandy beach and into the water. Take a dip in the on-site heated swimming pool and whirlpool. Relax in the spacious two-bedroom, two-bathroom units that are 1,400 square feet. Watch the dolphins at sunset from your private balcony. Visit the resort's Web site, www.camaroncove.com, for more details.
Property Info
Front Desk:
Front-Desk Onsite

Front desk hours of operation : 8:30am – 4:30pm
Check-in and Check-out:
Check In Time: 15:00

Check Out Time: 10:00

Weeks Resort check in days: Saturday

Please advise the resort if you anticipate a late arrival.
Accessibility Features:
Elevator/Lift

Accessibility equipment for the deaf
Additional Info:
No Pets. Please contact the resort directly regarding its ADA/general service animal policy.

Security: Other
Attractions
Activities
Amenities
On-site:
Jacuzzi/Hot tub

Swimming pool

Onsite – Swimming pool – total number of pools: 1
Off-site:
Nightclub (Nearby)

Sport Courts / Grounds (Nearby)

Spa (2.0 mi) Spa Services : Body treatments , Massage , Facials , Nail Services

Fitness Center (3.0 mi)
Resort Services
On-site:
Business center

Laundry facilities

Languages spoken onsite: English
Off-site:
Movie Rental (Nearby) Movie rental – In unit (fees may apply)

Medical facility (3.0 mi)

Currency exchange (3.0 mi)

Post Office (2.0 mi)