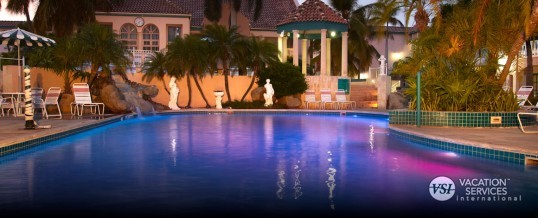 Caribbean Palm Village Resort is a low-rise resort featuring a friendly atmosphere, with Aruban hospitality. Deluxe accommodations of 170 lavishly decorated rooms featuring balconies in the one and two bedroom suites that are set amidst lush tropical gardens. The Resort is located about a mile from the beach.
Rooms/Suites come with king or queen size beds, bath and shower, telephone and direct dialing, flat screen television with cable reception, air-conditioning, ceiling fan, and fully equipped kitchen in the one-bedroom and two-bedroom suites.
There are two swimming pools, two Jacuzzis, complimentary Beach transportation, babysitting service, BBQ area for guests' private use, tennis court, car rental and spa on the property. Sweet Pepper Restaurant & Bar is open for breakfast, lunch, dinner, and your favorite drinks & frequent happy hours during day/night.
We are conveniently located within walking distance of drugstores, supermarkets, and doctor's offices.
7 Unit Buildings (A, B, C, D, E, F & G)
2nd and 3rd floors in Buildings A, E & G are accessible by elevator
170 rooms (two bedroom, one bedroom, and studios)
2 Swimming pools
2 Jacuzzis
Lighted Tennis Court
Sweet Pepper Restaurant & Bar (Breakfast, Lunch & Dinner)
Washers & Dryers in buildings A, B, E & G
Madeleine's Skin and Body care
Car Rental Desk Econo Car Rental
Fitness center with air-conditioning, treadmills, bicycle, elliptical machines, and three body-work out stations
Activities center
Availability For Sale