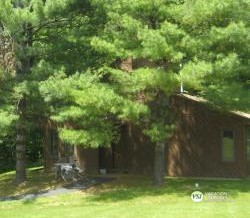 When you become an association member at Cathedral Ledge Resort, you are not only getting an annual vacation home at one of New England's most beautiful destinations, you are also able to join one the world's largest vacation exchange communities. We are affiliated with RCI and Interval International. We have weekly or nightly rental availability as well! Get in touch today to secure your dream vacation.
Like to have a lazy day during your summer stay? We have Full Tennis Courts, Children's Playground, 1/2 Basketball Court, Volley Ball & Badmitton, Horseshoes, Boche. All equipment available at the front desk. Guests don't even have to leave the property to have a full day of fun!
Indoor/Outdoor Year Round Heated Pool
Our Game Room with Pool & Ping Pong Tables, Music access, Video Games, and Internet access (Over 16 yrs without an accompanying adult only).
Our Great Room has Lg TV that the sports fans are always welcome to catch the game on, some breakfast tables with a fabulous view of Moat Mt., and a play area for the little ones on a rainy day. We also hold ceramics classes once a week, Ceramics with Nancy has been a wonderful addition for our guests.
Our Weight Room has a varied amount of equiptment with a huge large screen TV to catch the news.
Availability For Sale