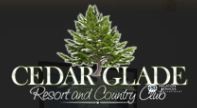 Location:
Horseshoe Bend, AR
Cedar Glade Resort and Country Club in beautiful Horseshoe Bend Arkansas. Resort amenities include an 18 hole par 3 resort golf course, On-site restaurant and lounge, Tennis Court, Heated year round outdoor pool, Shuffle board, Horseshoes, Volley Ball, Stocked fishing lake, Massage therapist, Spa and fitness Center.
Everything you would expect from a big city country club we have right here in Horseshoe Bend, Arkansas. Whether you are looking for non-stop action or a relaxing getaway- Cedar Glade Resort and Country Club is your place to go.
Nestled in the foothills of the Ozarks, this quiet resort will allow you to really unwind in this quaint and quiet town.   Horseshoe Bend is home to the 650 acre Crown Lake and has a great marina for any of your marine needs. This area is known for having the best trout fishing in America. You are minutes away from the number one trout river in the United States, the White River. The White River was voted number one by Field and Stream Magazine for its great trout fishing. Guided fishing trips are offered from Bill Terry's Trout Dock in Calico Rock. Catch your limit and maybe even enjoy a shore lunch of fresh trout, prepared by your guide.
If fishing isn't your thing, you can enjoy some great scenery at Mammoth Springs, Blanchard Spring Caverns, and Spring River.  Mountain View, Arkansas is home to the Ozark Folk Center and it is a living museum. Musicians keep the indigenous music alive by passing the music on to the next generation. You can experience the fine craftsmanship of making musical instruments and make a lasting memory.
Hardy, Arkansas offers some great shops for antique hunting and some nice restaurants.  You never know what you might find in when you browse these cute shops on Main Street.
NASCAR fans love to visit Mark Martin's museum in Batesville, Arkansas.  Mark is a native of Batesville and has many of his winning cars in his museum.
Availability For Sale