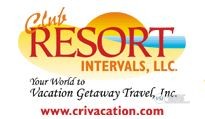 What does CRIVACATION offer you?
We offer the largest and most experienced clearinghouse for resort vacation properties in the United States and around the world. We offer families a number of travel related benefits, including "Vacation Getaway Travel", CRIVACATION's full-service travel agency, for members only.
Your CRIVACATION membership
allows you to purchase resort stays at club pricing on a pay-as-you-play travel program. CRIVACATION has more than 2500 resort possibilities worldwide. This means that your family now has access to a great variety of vacation opportunities that are available only to our club members.
Availability For Sale