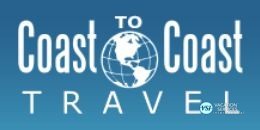 Coast To Coast Travel is a Full-Service Travel Agency established in 1975.
We represent all major cruise lines, tour operators and all-inclusive resorts, and sell every facet of travel around the world for individuals and groups. We are able to offer our clients with COMPETITIVE DISCOUNTS on a wide variety of cruises, vacation packages, sightseeing and land tours, all-inclusive resorts, hotels, rental cars and more to worldwide destinations! Our mottos are "We Will Not Be Undersold" and "You Mean The World To Us". We have a proven reputation of high standards of service, integrity and personal commitment to our clients.
Coast To Coast Travel personally gets involved with each client, listening to their needs and working with them to provide the best quality trips possible while offering the lowest discounted prices. With our years of experience we have the knowledge and the training to create just the right vacation for you, whether you are traveling for pleasure or business.
We are here to serve you and we do so with a highly personalized touch. Please, reach out and we'll extend our commitment to you. You can trust us to do it right and at the right price!
Availability For Sale