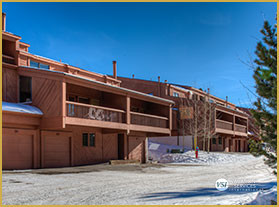 Gold Point Resort is the perfect location for families and groups. Winter or summer Stay at Gold Point and "spread out." Gold Point boasts unparalleled, breathtaking views of the Rocky Mountains from each of its spacious condominiums. The resort features fully equipped condominiums that range in size from studios to three-bedroom deluxe penthouses. Whether you are seeking a Breckenridge ski vacation in the winter, whitewater rafting in the spring, playing golf in the summer, or enjoying the aspen leaves during our fall foliage, you and your family will feel very "at home" with all that Gold Point has to offer, complete with hot tubs in each building. Let the friendly Breckenridge Grand Vacations staff at Gold Point Resort plan your next Breckenridge vacation!
Amenities:
Indoor Hot Tubs – Each building at Gold Point features an indoor hot tub with breathtaking views of the Ten Mile Range.
Breckenridge Recreation Center passes – Enjoy all that the Breckenridge Recreation Center has to offer by using the free passes available at the Front Desk. These passes provide access to a variety of exercise equipment, pool, indoor walking/running track, tennis courts and much, much more! Please note that Breckenridge Recreation Center passes are not available for owners of Grand Timber Lodge or the Grand Lodge on Peak 7.
Wireless Internet – Take advantage of free wireless Internet while staying at Gold Point.
Lounge – The lounge area at Gold Point is the perfect setting for a small group gathering.  It offers full kitchen facilities, large sitting area with tables, chairs, couches, big screen TV, computer station and large deck with a BBQ grill, not to mention impressive mountain views.
Free Bus Service – Take advantage of Breckenridge's free bus service.  There is a bus stop right in front of Gold Point for your convenience.
Private Garage Parking – Some of the larger units at Gold Point offer private garage parking.
Availability For Sale