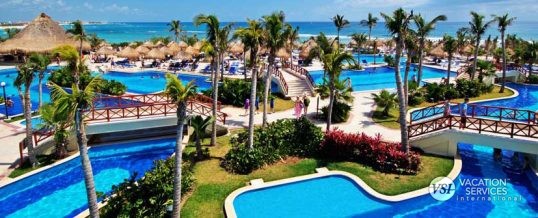 We offer a vacation ownership program, which is the right to use a Privilege Club Suite and all Club Benefits at a participating all-inclusive Bahia Principe Hotels & Resorts in the Caribbean for a certain amount of time.
Our affiliation to Resort Condominiums International (RCI) allows members to explore over 7,200 resorts worldwide, thus providing complete flexibility. You may choose to spend your Membership Week at a Bahia Principe Resort or exchange it with RCI to access a world of vacation possibilities. Bahia Principe Privilege Club, and its affiliation to RCI, provides its members a privileged way to see the world.
Privilege Collection Travel Portal is an additional program benefit included with your membership, providing a wide range of travel options to popular destinations around the world. The Privilege Collection Travel Portal gives you instant access to member pricing at more than 45,000 hotels worldwide, vacation packages to popular destinations, car rentals, cruises and more.
Membership Benefits:
Competitive All-Inclusive rate
Privilege Concierge "Pre Check-In" Service
Exclusive member identification
Welcome drink during check-in
Access to Privilege Beach, a reserved beach area for members only
Privilege Lounge for the exclusive use of members
Complimentary Internet at the Privilege Lounge
Complimentary long distance phone calls at the Privilege Lounge
Premium Alcohol at Privilege Lounge and Privilege Beach
Personalized and exclusive assistance from the Privilege Concierge
Discount on excursions
Reservation priority at á la carte restaurants
Unlimited reservations at á la carte restaurants*
Member-only events
Early Check-in and Late check-out*
Private airport transfers
Discount at nearby golf courses
Discount at Bahia Spa
Discount at Bahia lobby shop
Access to Chauffeured Golf Carts**
Complimentary Safety Deposit Box
*Subject to availability.
**Services only available at the resorts in Punta Cana and Riviera Maya.
Resorts in Dominican Republic
Punta Cana
Grand Bahia Principe Punta Cana
Grand Bahia Principe Turquesa
Luxury Bahia Principe Ambar
Luxury Bahia Principe Esmeralda
Luxury Bahia Principe Fantasia
Samana
Luxury Bahia Principe Cayo Levantado
Luxury Bahia Principe Samana
Grand Bahia Principe Cayacoa
Grand Bahia Principe Portillo
La Romana
Grand Bahia Principe La Romana
Luxury Bahia Principe Bouganville
Puerto Plata
Grand Bahia Principe San Juan
Resorts in Mexico
Riviera Maya
Grand Bahia Principe Tulum
Grand Bahia Principe Coba
Luxury Bahia Principe Akumal
Luxury Bahia Principe Sian Ka'an
Resorts in Jamaica
Runaway Bay
Grand Bahia Principe Jamaica
Luxury Bahia Principe Runaway Bay
Availability For Sale