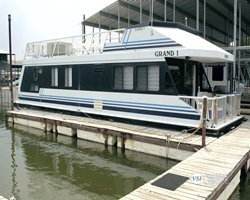 Location:
Stigler, OK
Evergreen Marina lets you cruise Lake Eufaula in a modern, fully equipped and air conditioned houseboat. There is a non-refundable fee due at check-in for US $585.00 for orientation, maintenance, propane and services.
Amenities:
Availability For Sale
ID
Bedrooms
Price
VSI0002032350
1
$7500

Usage: Annual Unit: TBA Week: 23

VSI0002082101
1
$14,900

Usage: Annual Unit: 511 Week: 9 (floating week) Points: weeks
Notes: Grand Lake Resort has all the pleasures of a tropical Florida vacation at your doorstep. We're located on beautiful Lake Wilson only two miles from Walt Disney World. At Grand Lake Resort, you're at the heart of the action. Our beautifully decorated and furnished Gold Star one bedroom unit features fully equipped kitchen, cable television, balcony or patio, ceiling fans and many other comforts of home. Heated swimming pool (seasonally), tennis court, children's playground, large lake with sandy beach, boat dock with paddle boats and canoes, basketball court, barbecue grills, laundry facilities and much more. 1. Two Banked weeks included in sale 2. Weeks are exchangeable and can be used at anytime during the year 3. RCI membership and Platinum membership good through December 2022 4. Premier resort for proximity to all Disney and other tourist attractions

VSI0011141806
2
$8,900

Usage: Odd Unit: 520 Week: 17
Notes: Gold 2019 open

VSI0002271818
1
$7,900

Usage: Even Unit: 613 Week: 36 Points: 32,000 every even year

VSI0006231504
2
$9500

Usage: Annual Unit: TBA Week: Float
Notes: Able to make exchanges at Holly Bluff Marina in Deland, FL as well!

VSI0004091505
2
$7,500

Usage: Annual Unit: TBA Week: 9

VSI03131404
2
$12000

Usage: Odd Unit: TBA Week: Float Points: 10000

VSI12131208
2
$14750

Usage: Annual Unit: TBA Week: Float
Notes: Price is negotiable. Bonus week available with purchase. This is a Houseboat rental property.