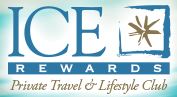 With ICE Platinum Rewards you'll enjoy exceptional prices on extraordinary vacations around the world. No matter what you want to do or where you want to do it, ICE Platinum Rewards gives you the freedom to do it all!
WE CREATE VACATION-BASED MEMBER PROGRAMS THAT ENHANCE YOUR BRAND.
As a world-class leader in the travel industry, International Cruise & Excursions, Inc. (ICE) provides a unique integration of leisure lifestyle and travel experiences, combined with high-value loyalty rewards and redemption options.
Some of the world's most respected brands including American Express™, USAA®, RCI®, Sears®, Virgin™, Hilton™, Marriott™, and more, partner with ICE to provide branded, travel and lifestyle based fulfillment services for their members or customers.
Availability For Sale