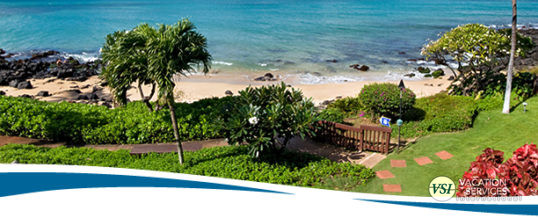 Maui, HI
Oceanfront Resort
The Kuleana Resort boasts a truly remarkable oceanfront location, on West Maui's pristine coastline, with a gorgeous panoramic view of the Pacific ocean and the nearby islands of Molokai and Lanai. We offer you a rare piece of vintage Hawaii with the convenience and comfort of today. For over 25 years, we have strived to make sure that our guests have the most unique Hawaiian vacation. The atmosphere of our resort is friendly, family-oriented, homey and fun. This rare gem sparkles with the beauty of the tropics that only years of aloha can provide.
Our grounds are covered in beautiful, lush, tropical, foliage that has been meticulously maintained, groomed and cared for. None of the newer resorts, or condominiums, can compare to the years of wonderful landscaping that you will enjoy at the Kuleana's incredible oceanfront property.
With a large heated pool for swimming, a private snorkel cove, and barbecue areas, plus great views of the ocean, Kuleana is like no other. We are nestled away, in the heart of the resort areas on Maui, and are located close to many great shopping places, restaurants and activities. We invite you to discover the reason why many guests return year after year and consider the Kuleana one of the best kept "West-Side" secrets!
The Kuleana is approximately 5 miles north of Lahaina and Kaanapali beaches and a 45 minute drive from the main airport at Kahului. Or the West Maui, Kapalua Airport is just a mere 5 minutes driving distance away.

Resort Amenities
The Kuleana offers more than just a place to stay, it helps you explore, play or relax during your Maui vacation. While you are here you can explore the amazing sea life in the private snorkel area, play tennis on our regulation tennis courts, or relax beachside or poolside and soak up the Maui sun. Our main goal is for you to have the most enjoyable vacation possible and with that in mind we provide our guests with many amenities for their convenience and comfort. The Kuleana offers you the following:
Outstanding Oceanfront Location
Amazing Sunsets
Large Heated Swimming Pool with Lots of Lounge Chairs
Private Snorkeling Area with Ocean Access Ladder
Fantastic Access to One of Maui's Popular Intermediate to Advanced Surfing Locations
Full-Size Tennis Court
Outdoor Shuffleboard
Beautifully Landscaped Grounds
Barbecue areas (4 Large Gas Grills)
Small Private Beach (Accessible During Low Tide)

On-Site Laundry Facilities – Some Condos Have Washer & Dryer in the Actual Unit
Ping Pong Table in Lobby Area
Reading Room with Access to a Free Lending-Library of Books
Free WIFI High-Speed Internet Access Available in the Lobby, Pool Area and Most Units
Free Assigned Parking for Guests
Fax Service Available (charged Per page)
Great Whale Watching Vistas During Season