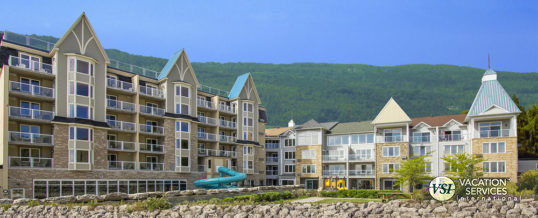 Collingwood, ON , Canada
Living Water Resort is an all-year vacation paradise to help visitors rejuvenate their mind, body, and spirit. This is the place where you'll discover nature and find opportunities to cherish what nature has to offer. The hotel rooms and suites all become one with our landscape of the Blue Mountains and Georgian Bay.
Relax & Rejuvenate
Living Water Resort is an all-year vacation paradise resort located in the serene lakefront town of Collingwood, Ontario, Canada.
The experience at Living Water's accommodations is among the best in Collingwood, with spacious guest rooms and an elegant design. Relax and rejuvenate in one of our suites, designed to maximize comfort in your Collingwood retreat.
Play at the 18-hole championship golf course, relax at our bar & lounge, or indulge in a serene session at the spa. Families can engage in fun-filled programs at our kids' camp, ride bikes along forested mountain trails, take boat trips or sail from our marina. A wide range of indoor and outdoor activities are available for all to enjoy, from those designed for couples to those for whole families.
Our lavish meeting and event facilities offer a host of flexible and adaptable venue options to meet your exact needs and specific tastes. Our chefs devote the same care and love to the cuisine at our restaurants as they do the catered food for your special event. With a lakefront setting, we're a perfect wedding location. We also offer many different packages and programs to accommodate your group's specific needs.
Availability For Sale