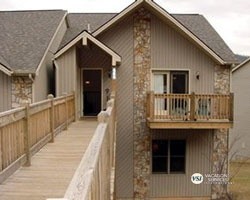 McGaheysville Virginia
When you buy Massanutten's Summit Hillside timeshare, you can count on yearly vacations at one of the top mountain resort destinations in the country. Whether you like to take time off for skiing and other winter sports or look forward to the outdoor adventure that is available in the Shenandoah Valley, Massanutten's Summit Hillside accommodation will fulfill your wishes and more. Try the fantastic water park, outdoor pool, golf courses, hiking, biking and sightseeing. The locality has wineries where you can enjoy wine tasting, craft breweries nearby and several awe-inspiring caverns to explore.
Fabulous Accommodation Choices
You can buy a timeshare that has one, two, three or four bedrooms and full or partial kitchens. You will enjoy whirlpool tubs, decks and fireplaces. Spacious and tastefully decorated, these units provide a relaxing and comfortable vacation home. The resort has several excellent restaurants as well as live entertainment. With a fitness center, classes in cooking, yoga and art as well as relaxing and healthful spa treatments, Massanutten's Summit Hillside villas are a vacation destination even if you never leave the resort.
Terrific Activities for Every Season
The region offers whitewater rafting, horseback riding, fishing and an adventure park. There is a kid's club, petting zoo and family adventure park as well as scenic chairlift rides. Washington D.C. is close enough for a day trip, or visit historic Civil War battlegrounds nearby. During the winter, you will be able to enjoy skiing and snowboarding, tubing, ice skating, terrain parks and lessons for the beginners.
When you buy Massanutten's Summit Hillside timeshare, you have the opportunity to enjoy a fantastic vacation every year for a price you can afford.
Availability For Rent
Availability For Sale