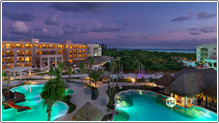 Club Meliá membership is a vacation ownership program that is flexible, affordable and a convenient way for you and your family to experience not only our destinations but the world for now and years to come.
A membership with Club Meliá is unique because of our points system approach to ownership. We offer you a wide range of options that is based on the membership point plan (or Option) you purchase and backed by the unit type you purchase. As a member, you own a vacation product that offers the ultimate in flexibility.
CHOOSE AN OPTION MEMBERSHIP
Choose an Option (points) plan that is tailored to your vacation lifestyle. This is simple, your unit type interest in Club Meliá is represented by a specific allotment of Options (accommodation plus destination points). The larger your Options, the more days and larger accommodations you can enjoy. Each year, you receive a new allotment of Options. How you use the points is up to you. Think of it like having Meliá currency in a savings account just for you, year after year.