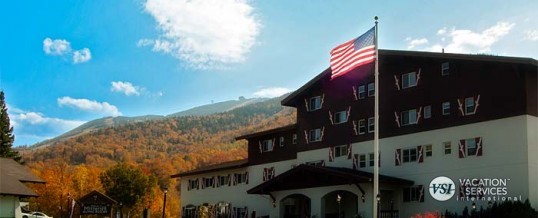 Franconia, NH
Located in scenic Franconia Notch. Enjoy the many nearby historical sights and outdoor activities in the heart of NH's White Mountain National Forest. Minutes from all area attractions, including nearby hiking and bike trails, and the Cannon/Mittersill Mountain Ski Area.
Built in 1945 with authentic Austrian style, Mittersill Alpine Resort combines Old World charm with modern conveniences. The Resort is nestled in a quiet, private, exclusive Alpine village. Experience the beauty of the North Country, relaxing & quiet, a perfect location for a quality, self-directed vacation or weekend visit.
Founded by the Baron Hubert von Pantz in 1945, Mittersill Alpine Resort and the Village has a Tyrolean heritage and traces its roots directly from the aristocracy of Austria. In 1964, the Main Inn was expanded into the grander scale Resort of today. In 1969, the Baron sold the Resort to relatives and retired to Austria.
In 1979, the new owners began to convert the interior of the Resort from hotel rooms to the more modern style of units featuring full kitchens. In 1993, the unit owners gained direct control of the management of the Resort.
Today, Mittersill Alpine Resort, offers non-smoking accommodations that include selected hotel rooms, spacious one and two bedroom units with full kitchens.
Mittersill Alpine Resort combines authentic Old World charm with modern conveniences. A four-seasons lodging, vacation rental & ownership resort. Mittersill Alpine Resort offers spacious one and two bedroom suites with full kitchens – rent or own your vacation. We also have 3 non-smoking hotel rooms for daily or weekly rentals. All units are internet compatible or, if faster browsing is required, use our wireless internet available in the pub or family room. All units have DVD and VCR players and cable TV. Mittersill Resort has an indoor and an outdoor heated pool, tennis courts, sauna, Jacuzzi, exercise room, game room, a Pub with wireless internet, a pool table and both a video and book library on site. A hot bowl of soup or a refreshing salad along with a specialty sandwich, freshly prepared, in the Baron's Pub is available to help you end a perfect day of activities. In the Baron's Pub, you can relax at the pool table, play cards with your friends, watch sports or bring your laptop and keep abreast of current events with wireless internet access. Baron's Pub, open to the public, Thursday – Saturday, 5pm-9pm. Relax in a quiet atmosphere après ski or hiking – slope-side to Mittersill Mountain, Baron's Pub offers Beer & Wine, Soups, Salads & Sandwiches, with Wi-Fi available in the adjacent Alpine Room. The pub has available Pool, TV, Jukebox music, Darts and Karaoke. Mittersill Alpine Resort offers self-directed activities at our facilities that include indoor/outdoor swimming pools (seasonal), Jacuzzi, sauna, fitness room, game room, and tennis courts (seasonal). With Ski & Golf nearby.