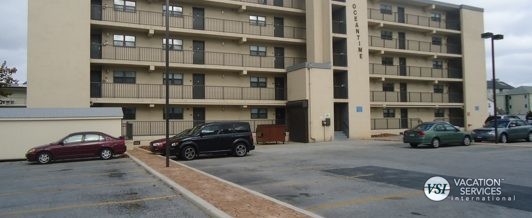 Ocean Time Condominium is located on the Ocean Block of 136th street. The building contains 30 units. Each unit has 2 bedrooms, 2 bathrooms, a full kitchen and a private balcony. This building has an elevator.
ean Time Condominiums come with accomodations for 6 residents. Each Condo consists of 1 Queen Bedroom, 1 Bedroom with a full & twin, 2 Bathrooms, Full Kitchen, Living Room with a Queen Sleeper Sofa, Washer/Dryer, and Private Balcony. The condo contains linens and towels. A starter kit of housekeeping supplies is provided at check-in. Housekeeping Starter Kit includes the following: 1 roll of paper towels, 1 dishwasher tab, a sample size of dish-washing soap, a sample size of laundry detergent, 1 box of tissues, 1 sponge and a coffee kit with condiments. One roll of toilet paper is provided in each bathroom, as well as one trashbag in the trashcan
An Indoor Pool is now available!
From April 1 through October 31 our owners and guests will have access to the neighboring condo building, The Waves, indoor pool.
From November 1 through March 31 our owners and guests will have access to the indoor pool at The Comfort Inn located approximately 2 miles south of Ocean Time.
Checking In
Check-In times are from Friday 4-9PM and Saturday 9AM-1PM
The Check-In location is the Paradise Properites office
12505 Coastal Hwy Suite 11, Ocean City, MD 21842       We are located between 125th and 127th streets on the bay side of Coastal Highway. Our office is on the back side of a Bank of Delmarva building. Our door is white with an 11 on it. PH:410-250-1111   EMAIL: fred@paradiseoc.com
Checking Out
Check-Out time is 10AM sharp. The unit keys may be placed in the box located on the 1st floor by the elevator.
Availability For Sale