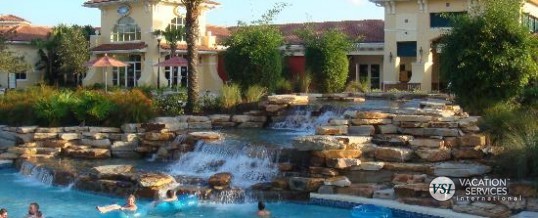 Location:
Orlando, FL
Orange Lake Resort spans 1,450 acres and is located at the doorstep of Disney. Guests have access to all of the four resort villages. Features include seven pools, a 1,200 foot long lazy river, an 80-acre lake with beach and water sports, four golf courses, and nine restaurants. In addition there are two mini golf courses, three fitness centers and basketball, tennis, racquetball courts and more. The North Village is a relaxing oasis with a large pool and multilevel decks, a water-slide, pool basketball and volleyball, wading pool, arcade and cafe. Also included is access to the Arnold Palmer designed nine hole golf course lighted for nighttime play.
Amenities:
Water-skiing
Lake
Boating
Fishing
Pool
Children's Pool
Golf
Tennis
Racquetball
Exercise Equipment
Whirlpool/Hot Tub
Games Room
Playground
Live Entertainment
Handicapped Accessible
Elevator
Auto Rental
Grocery
Laundry
Restaurant
Snack Bar
Shopping
I am Ready to Purchase or Make an Offer
Availability For Rent
ID
Bedrooms
Price
VSI0007012002
2
$3100

Usage: Annual Unit: TBA Week: Float
Notes: 2020 Rental Available - two weeks

VSI0006162005
2
$2900

Usage: Annual Unit: TBA Week: Float

VSI0004132001
TBA
$2500 per week

Usage: Annual Points: 236,000

VSI09201206
TBA
$700

Usage: Annual Unit: TBA Week: Float
Notes: 3 weeks available. Also has the ability to book at any of the Holiday Inn properties at Orange Lake Resort - Orlando FL, Bay Point Resort - Panama City FL, Smoky Mtn Resort - Gatlinburg TN, Ascutney Mtn Resort - Brownville VT, Lake Geneva Resort - La Geneva WI, and Desert Club Resort - Las Vegas NV.
Availability For Sale
ID
Bedrooms
Price
VSI0009222301
TBA
$16500

Usage: Annual Unit: TBA Week: Float Points: 58,000

VSI0009132328
3
$12,000

Usage: Annual Unit: TBA Week: Float

VSI0009122303
TBA
$31,900

Usage: Annual Unit: TBA Week: Float Points: 150,000

VSI0009112311
1
$8,000

Usage: Annual Unit: TBA Week: Float

VSI0008142303
TBA
$85,000

Usage: Annual Unit: TBA Week: Float Points: 580,000

VSI0007242309
3
$21,900

Usage: Annual Unit: 87961 Week: 46

VSI0007192304
TBA
$30,000

Usage: Annual Unit: TBA Week: Float Points: 150,000

VSI0006132304
2
$15,900

Usage: Odd Unit: 3521 Week: 35 Points: 100,000

VSI0006052309
TBA
$21,900

Usage: Annual Points: 100,000

VSI0006012304
2
$29,900

Usage: Annual Unit: 2442 Week: 5

VSI0005152301
TBA
$82,000

Usage: Annual Unit: TBA Week: Float Points: 550,000

VSI0004242312
1
$5400

Usage: Even Unit: TBA Week: 16

VSI0003372306
2
$22,000

Usage: Annual Unit: TBA Week: FL Points: 100,000

VSI0003132322
2
$9000

Usage: Annual Unit: 3112 Week: 7

VSI0003092302
1
$16,900

Usage: Odd Unit: TBA Week: Float Points: 98,000

VSI0002032346
TBA
$11000

Usage: Annual Unit: TBA Week: Float

VSI0001232310
2
$23,000

Usage: Annual Unit: TBA Week: FL Points: 100,000

VSI0001232303
2
$44,000

Usage: Annual Unit: TBA Week: FL Points: 127000

VSI0001092303
2
$25,500

Usage: Annual Unit: TBA Week: FL Points: 96,000

VSI0001042303
2
$21,900

Usage: Annual Unit: 439 Week: 17

VSI0012202205
2
$8500

Usage: Annual Unit: fl Week: tba Points: 50,000

VSI00012202227
2
$13,500 Neg.

Usage: Annual Unit: TBA Week: Float Points: 50,000

VSI00012142232
3
$15,500

Usage: Annual Unit: TBA Week: Float
Notes: East Village

VSI0012122204
TBA
$59,000

Usage: Annual Unit: TBA Week: FL Points: 330,000
Notes: Bonus 323,000 banked points carryover Discounted golf prices available to the new owner. 4 golf courses on the property. There will be a $20,000 discount starting March 1 thru September 1 2023.

VSI0011162202
2
$19,900

Usage: Even Unit: TBA Week: Float Points: 133,000

VSI00011152240
2
$5000

Usage: Annual Unit: TBA Week: Float

VSI0011142213
2
$32,900

Usage: Annual Unit: TBA Week: Float Points: 150,000

VSI0009192206
2
$14,500

Usage: Annual Unit: TBA Week: FL

VSI0009152206
TBA
$35,500

Usage: Annual Unit: TBA Week: FL Points: 150,000

VSI0008162214
TBA
$9000

Usage: Annual Points: 133,000

VSI0008082205
1
$19900

Usage: Odd Unit: 087566 Week: 36

VSI0007202206
2
$12,500
VSI0007132202
3
$59,900

Usage: Annual Unit: TBA Week: Float Points: 321,000

VSI0006282226
2
$7500

Usage: Annual Unit: TBA Week: FL Points: 175000

VSI0006282225
2
$7500

Usage: Annual Unit: TBA Week: FL Points: 127000

VSI0006272207
1
$13,900

Usage: Annual Unit: TBA Week: Float Points: 6500

VSI0006152237
TBA
$9000

Usage: Annual Unit: TBA Week: Float Points: 210,000

VSI0006062207
TBA
$11,900

Usage: Annual Unit: TBA Week: Float Points: 30,000

VSI0005022201
2
$30,900

Usage: Annual Unit: TBA Week: Float Points: 150,000
Notes: 2 weeks

VSI0004192206
2
$12,000

Usage: Annual Unit: TBA Week: Float

VSI0001032204
2
$2000

Usage: Annual Unit: TBA Week: Float

VSI00012012123
2
$4500

Usage: Annual Unit: TBA Week: Float

VSI0011012107
1
$12,000

Usage: Annual Unit: TBA Week: Float Points: 45000

VSI0010182102
2
$49,500

Usage: Annual Unit: TBA Week: Float Points: 500,000
Notes: In addition to the 500,000 points we receive 2 upgrades and 2 stays in a 2 bedroom resort condominium of up to a total of 7 nights, per each year. My Additional Club Member Benefits 2 - Reservation Upgrades Available: (2 stays), up to 7 nights available Signature Collection IHG® Rewards Club Registry Collection RCI Interval International

VSI0009212102
2
$7500

Usage: Odd Unit: 003803 Week: 2

VSI0003232105
3
$49,000

Usage: Annual Unit: TBA Week: 27 Points: 426000

VSI0003082104
TBA
$24,900

Usage: Annual Unit: TBA Week: Float Points: 100,000

VSI0001252105
3
$42,000

Usage: Annual Unit: TBA Week: Float Points: 222,000

VSI0010132010
2
$21,500

Usage: Annual Unit: Q-105 Week: 26

VSI0009092002
2
$10,500

Usage: Annual Unit: TBA Week: Float

VSI0008272007
2
$9500

Usage: Annual Unit: TBA Week: Float

VSI0007132002
2
$2500

Usage: Annual Unit: TBA Week: Float Points: 159,000

VSI0003272003
2
$24,900

Usage: Annual Unit: TBA Week: Float Points: 100,000

VSI0003242001
2
$14,999
VSI0001212088
studio
$12,200

Usage: Annual Unit: 5322 Week: 32 Points: 82,000

VSI0001212012
2
$10,500

Usage: Odd Unit: TBA Week: Float Points: 160,000

VSI0012171985
3
$5300

Usage: Annual Unit: TBA Week: Float

VSI0012101996
2
$9,000

Usage: Annual Unit: TBA Week: Float

VSI0010171907
2
$22,900

Usage: Annual Unit: TBA Week: Float Points: 100,000
Notes: Choice of 18 properties nationwide, 100,000 points per year, points used per stay varies depending on location and season.

VSI0009201909
2
$22,900
VSI0009121901
2
$190,000

Usage: Annual Points: 1,000,000
Notes: Platinum points Trust-Signature Collection Access to the Registry Collection upscale resorts

VSI0007181903
1
$24,000

Usage: Annual Unit: TBA Week: Float Points: 60,000

VSI0006141906
2
$13,999
VSI0005291903
2
$14,900

Usage: Odd Unit: TBA Week: Float Points: 100,000

VSI0005241908
1
$15,900

Usage: Annual Unit: TBA Week: Float Points: 55,000

VSI0005221901
TBA
$40,000

Usage: Annual Unit: TBA Week: Float Points: 160,000

VSI0005211905
2
$18,900

Usage: Odd Unit: 86154 Week: 17 Points: 166,000
Notes: This villa is through Holiday Inn Vacation Club and can be exchanged through RCI . Fees are much less and there are over 16 locations in Holiday Inn for exchange. I'll be going to Cape Canaveral in August. Vegas, Orlando, Williamsburg, Vermont, myrtle beach, Gatlinburg, to name a few

VSI0005211904
2
$24,900

Usage: Annual Unit: 5423 Week: 11 Points: 159,000
Notes: This villa is through Holiday Inn Vacation Club and can be exchanged through RCI also.

VSI0005101904
2
$31,900

Usage: Annual Unit: TBA Week: Float Points: 166,000
Notes: 2 bedroom Villa can save unused Holiday Inn Vacation Club points in IHG program

VSI0004141983
TBA
$2,000

Usage: Even Unit: TBA Week: Float Points: 100,000

VSI0004111908
2
$19,900

Usage: Annual Unit: TBA Week: Float Points: 100,000

VSI0003251903
2
$19,900

Usage: Annual Unit: TBA Week: Float Points: 127,000

VSI0003241985
2
$9000

Usage: Annual Unit: TBA Week: Float

VSI0003201906
2
$14,999

Usage: Annual Unit: 2431 Week: 12

VSI0002141903
2
$16,900

Usage: Odd Unit: 86615 Week: 2 Points: 100,000
Notes: East Village Section 100,000 Holiday Inn Vacation Club points

VSI0001231903
3
$26,900

Usage: Annual Unit: 202 Week: 22

VSI0001101901
2
$18,900

Usage: Odd Unit: TBA Week: Float Points: 139,000

VSi0001021907
2
$12,900

Usage: Annual Unit: 3001 Week: 12
Notes: West Village Sec

VSI0012111816
3
$18,500

Usage: Annual Unit: TBA Week: 26 Points: 307,000

VSI0012041803
1
$Best offer
VSI0011081803
2
$10000

Usage: Even Unit: TBA Week: 37 Points: 105,000

VSi00100518003
3
$29,900

Usage: Annual Unit: 3841 Week: 23
Notes: You may choose to use the 2 bedroom 2 bathroom side one week and use the 1 bedroom 1 bathroom another week or use them all at once. They both have fully equipped kitchens and washer/dryer in each unit. The couches convert to queen size hide a beds.

VSI0010021801
2
$12,000

Usage: Annual Unit: TBA Week: Float Points: 50,000
Notes: 50,000 points form 2018 carried over and available for use for a total of 100K

VSI0008131804
2
$14,000

Usage: Even Unit: TBA Week: Float Points: 115,000

VSI0008081807
2
$14,200

Usage: Annual Unit: 2616 Week: 23 Points: 127,000

VSI0008081806
2
$20,900

Usage: Annual Unit: 5724 Week: 47 Points: 127,000

VSI0007161802
studio
$8,900

Usage: Annual Unit: 5133 Week: 8
Notes: 2019 open

VSI0006111802
TBA
$68,000

Usage: Annual Unit: TBA Week: Float Points: 177,000

VSI0004241803
TBA
$10,000

Usage: Even Unit: TBA Week: Float Points: 100,000

VSI0004181802
2
$19,500

Usage: Annual Unit: TBA Week: Float Points: 200,000

VSI0003271813
1
$15,000 Nego.

Usage: Even Unit: TBA Week: Float Points: 80,000

VSI0003271801
TBA
$21,500

Usage: Annual Unit: TBA Week: Float Points: 118,750

VSI0003151812
TBA
$10,500

Usage: Annual Unit: TBA Week: Float Points: 82,000

VSI0002071809
2
$21,900

Usage: Annual Unit: 087667 Week: 35 Points: 100,000
Notes: 6085743

VSI0001301807
3
$35,900

Usage: Annual Unit: TBA Week: Float Points: 244,000
Notes: June start date Owner number 1016722

VSI00012151705
2
$16,900

Usage: Annual Unit: 210 Week: 36

VSI00011271718
2
$24,500

Usage: Annual Unit: 86852 Week: 45

VSI0011131718
2
$12,200

Usage: Annual Unit: 19204 Week: 37

VSI0009291701
2
$24,900

Usage: Annual Unit: TBA Week: Float Points: 142,000

VSI0009281709
TBA
$12,999

Usage: Even Unit: 88164 Week: 43 Points: 133,000

VSI0009191703
3
$28,900

Usage: Annual Unit: 087521 Week: 8 Points: 222,000

VSI00007081768
2
$3,500

Usage: Annual Unit: 86764 Week: 29

VSI0005101709
2
$26,000

Usage: Annual Unit: 081107 Week: 52 Points: 191,000

VSI0005101708
2
$16,900

Usage: Annual Unit: 5732 Week: 9 Points: 159,000

VSI0005101707
2
$16,900

Usage: Annual Unit: 5732 Week: 8 Points: 159,000

VSI0004271709
2
$16,950

Usage: Annual Unit: 4303 Week: 39

VSI0004191706
studio
$9,500

Usage: Annual Unit: 005249 Week: 19 Points: 49,000

VSI000406170091
2
$5,500

Usage: Annual Unit: 439 Week: 17

VSI0003151703
2
$2,500

Usage: Even Unit: 086664 Week: 48 Points: 100,000
Notes: Main fees are only paid every even year

VSI0001031705
2
$40,000

Usage: Annual Unit: 82304 week 28 Week: 28 Points: 200,000
Notes: Priority booking at River Island. 2 bedroom sleeps 6. Can use points at any Holiday Inn resort. Membership includes 1 complimentary upgrade and 1 complimentary 3 night stay per year. Points good for 2 years or can be banked and used with RCI or IHG for longer time.

VSI00011011624
TBA
$15,000 P/N

Usage: Annual Unit: TBA Week: Float Points: 160,000

VSI00010261692
TBA
$12,000

Usage: Annual Unit: TBA Week: Float Points: 133,000 EOY

VSI00010181606
2
$34000

Usage: Annual Unit: TBA Week: Float Points: 159000

VSI0008021609
1
$12900

Usage: Annual Unit: TBA Week: Float Points: 133000

VSI0006131607
2
$26900

Usage: Annual Unit: 0003 Week: 17 Points: 120000

VSI0006131606
2
$32000

Usage: Annual Unit: 0378AB Week: 43 Points: 165000

VSI0005311603
2
$17000

Usage: Odd Unit: TBA Week: Float Points: 166000

VSI0005161609
studio
$8900

Usage: Annual Unit: 5212 Week: 49

VSI0005161606
2
$20000

Usage: Annual Unit: TBA Week: Float Points: 159000
Notes: next to Walt Disney World and Animal Kingdom. 4 villages to choose from with 7 pools including lazy river, 4 golf courses including an Arnold Palmer Signature course, shopping, tennis, and 9 restaurants. Connected with IHG vacations so can use points for various hotels, airlines, car rentals. Can exchange for Holiday Inn resorts or RCI resorts within U.S. and internationally. Ability for family and friends to use. Price is negotiable.

VSI0004081605
1
$19,900

Usage: Even Unit: TBA Week: Float

VSI0003291605
2
$15000

Usage: Odd Unit: TBA Week: Float Points: 97000

VSI0001071607
3
$5500

Usage: Annual Unit: TBA Week: 21

VSI0011231505
2
$14000

Usage: Annual Unit: TBA Week: Float

VSI0010081519
2
$21000

Usage: Annual Unit: TBA Week: 39

VSI0010081508
2
$4,500

Usage: Annual Unit: 3853 Week: 2

VSI0010061595
2
$14,800

Usage: Annual Unit: TBA Week: 42

VSI0009011513
2
$21000

Usage: Annual Unit: 3110 Week: 45 Points: 127000

VSI0006181512
2
$5,000

Usage: Annual Unit: 95 Week: 51

VSI0004241525
2
$21000

Usage: Even Unit: TBA Week: Float Points: 130000

VSI0003111550
2
$19500

Usage: Annual Unit: 082603 Week: 34 Points: 181,000
Notes: Signature Series Unit., River Island VIP Membership Points 181,000

VSI0002271503
2
$12500

Usage: Annual Unit: TBA Week: 44

VSI11261403
2
$35000

Usage: Annual Unit: TBA Week: Float Points: 159,000

VSI10291409
TBA
$24500

Usage: Annual Unit: TBA Week: Float Points: 166000

VSI10201407
2
$19500

Usage: Annual Unit: 3562 Week: 30
Notes: East Village Section, 2015 Usage available

VSI06201403
2
$9950

Usage: Annual Unit: 088022 Week: 48

VSI05301402
2
$27000

Usage: Annual Unit: TBA Week: FLoat Points: 166000

VSI05271401
2
$9999

Usage: Even Unit: TBA Week: Float Points: 100000

VSI03261413
TBA
$29900

Usage: Annual Unit: TBA Week: Float

VSI03261412
3
$28000

Usage: Odd Unit: TBA Week: Float

VSI02121403
2
$19000

Usage: Annual Unit: 81101 Week: 47 Points: 139000

VSI02121402
3
$18000

Usage: Annual Unit: 86126 Week: 49 Points: 133000

VSI10281303
2
$10000

Usage: Even Unit: 3635 Week: 4 Points: 100000

VSI10211301
2
$19,800 p/n

Usage: Annual Unit: 2598 Week: 17 Points: 159,000
Notes: Make an offer. Try before you buy program may be available to interested buyers.

VSI10021312
2
$12,000

Usage: Annual Unit: 004302 Week: 13

VSI08281308
2
$27000

Usage: Annual Unit: TBA Week: Float

VSI08131309
2
$16900

Usage: Annual Unit: 87764 Week: 43

VSI05101303
3
$34000

Usage: Annual Unit: TBA Week: Float Points: 177000
Notes: Price is negotiable.

VSI04081310
2
$57900

Usage: Annual Unit: TBA Week: Float Points: 500000
Notes: Make an offer.

VSI02271304
2
$10,000

Usage: Annual Unit: 87722 Week: 29

VSI11131201
1
$18900

Usage: Odd Unit: H311 Week: 42

VSI11061217
2
$21000

Usage: Annual Unit: 86814 Week: 12 Points: 166000

VSI10021202
2
$17777

Usage: Annual Unit: 8756 Week: 4
Notes: 1 exchange week with RCI is included.

VSI08231102
2
$10900

Usage: Annual Unit: TBA Week: Float

VSI08151105
2
$13900
Show All