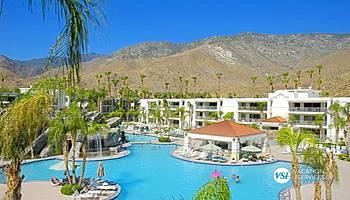 Discover the ultimate oasis in Palm Springs — our resort and spa is a luxurious retreat in the heart of Southern California. Palm Canyon promises an escape like no other, with spacious, fully furnished villas offering private bedrooms, well-equipped kitchens, living/dining areas and everything you need for relaxing.
Surrounded by tropical landscaping and a serene atmosphere, Palm Canyon Resort of Palm Springs features a dramatic rock formation with cascading waterfalls around a 1.5-acre swimming pool and sun deck. Explore lush grottos, an in-cave whirlpool spa, and spectacular water slides for adults (slide height requirement of 48in) and children.
Our Palm Springs luxury hotel also has activities for all ages, including a game room, fitness center, and indoor basketball and volleyball courts. Visit the Palm Canyon Resort & Spa where a desert oasis awaits you.
For fun the whole family will love, make sure to put outdoor activities in Palm Springs on your list! A day of splashing, hiking, golfing, or fishing is a great way to experience Southern California.
Availability For Sale