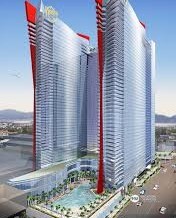 PH Towers Westgate is the largest single vacation ownership building ever built in the world and stands among the most luxurious properties of any kind in the Las Vegas market. Directly connected to the Miracle Mile shops and adjacent to the Planet Hollywood Resort & Casino complex, PH Towers Westgate is the first vacation ownership resort to be fully integrated with a major resort and casino.
This 52-story blue glass marvel boasts over 1,200 upscale villas ranging in size from 450 to 2,200 square feet, each complete with full kitchens; oversized jetted tubs; state-of-the-art room management and entertainment systems; and uncompromised, dazzling views of the Las Vegas Strip. A majority of the villas also include a 10-foot-wide high definition movie theater. Another unique feature of PH Towers Westgate is the sleek and upscale lobby directly overlooking an exotic tropical pool, complete with a sandy beach and forty private cabanas that are conveniently located only a few feet from the resort elevators.
With the unveiling of the PH Towers Westgate signage on top of the building, the brand name "Westgate" took its place above the Las Vegas Strip illuminated with a newly patented LED lighting system boasting the largest letters of any hotel sign on The Strip. The Westgate brand is now the brightest light in Las Vegas.