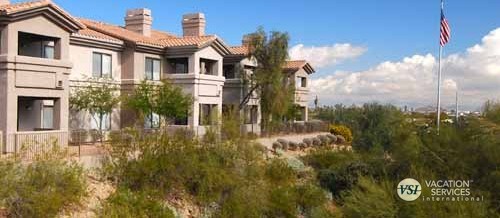 Phoenix, AZ
The resort is located at the base of South Mountain in the largest nature preserve within city limits in the world, with over 17,000 acres and 75 miles of trails. This is your gateway to discover some of Arizona's natural treasures such as the Red Rocks of Sedona, Montezuma Castle and one of the Seven Natural Wonders of the World: the Grand Canyon.
Phoenix lies in the middle of the Sonoran Desert. Naturalists will revel in the parched beauty of the South Mountain Wilderness Preserve, where saguaro cacti and Arizona agave grow unhindered and regal horned lizards flee from cactus wrens. The nearby Desert Botanical Gardens offer a tour of Sonoran flora in more domesticated environment, while the Apache Trail will lead determined hikers deep into the wild desert. Those willing to travel some distance may seek the Red Rocks in Sedona or perhaps even the cliffs of the Grand Canyon, which is a four-hour drive from WorldMark Phoenix – South Mountain Preserve.
For visitors more interested in culture, the Old Town Scottsdale Historic District is only twenty minutes away and features eclectic shopping, unconventional art galleries, and quirky eateries. The Heard Museum, founded in 1929, is renowned as one of the best places to learn about American Indian arts and culture through a series of stunning, exquisitely-detailed exhibitions. If you brought the kids along or just enjoy animals, the Phoenix Zoo is also a short car ride away.