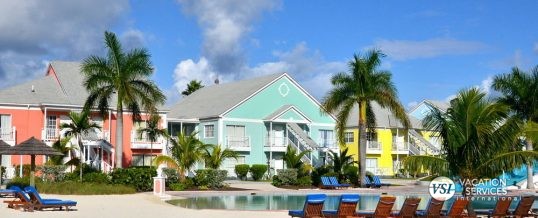 Nassau, Bahamas
Sandyport Beaches Resort is a TripAdvisor Certificate of Excellence holder and RCI Gold Crown resort known for its hospitality. Recommended by Travel & Leisure as "one of the best Boutique Resorts in the Bahamas," and by the New York Times as where to stay in their travel article "36 Hours in Nassau". We are small enough with 72 suites and rooms to offer personalized and friendly service. Escape and enjoy your own hammock or bring your whole family and enjoy our deluxe one, two or three bedroom suites with full kitchens, living/dining room, and Jacuzzi bath.
The Resort's ocean beach is an idyllic haven of beautiful sand and crystal clear waters of incredible shades of blue averaging about 80⁰F year round. Explore the underwater life, comb for natural treasures, build sandcastles with the kids or decompress in a hammock in The Lookout while enjoying the spectacular view. The Resort's outdoor swimming pool has a unique sand edge and kids will love the 2 water slides. You can play a game of tennis or basketball on the Resort's court, then unwind with an in room or pool side massage. Sip island cocktails at "Da Hot Spot" pool side bar after a game of table tennis or volleyball or explore with on-site snorkel rentals or head back to the Ocean Beach and enjoy the Blue Sail Restaurant.
The Bahamas has a rich cultural heritage and offers a wide range of activities and experiences. Our guests are our favorite new locals and our concierge team has all the inside knowledge to make your trip truly memorable, whether it be a once in a lifetime experience, those sought after tickets, or the secret local spot. We look forward to welcoming you to Sandyport soon.
Our guests are our favorite new locals and our excellent concierge team has the insider's knowledge to make your trip truly memorable.
Water sports above and below the water abound from deep sea fishing to sunset cruises. Want to add some thrill to your vacation? Try diving with sharks, or being kissed by a dolphin. Experience the history, culture and architecture of the island with a guide. March with Flamingos, splash at the water-park or play pretend with Pirates. Try the Bahamian bunker shot, shop in the Bay St. boutiques or ride a horse along the beach. Then watch the sunset dip below the sea as the Island rhythms start to pulse in the night clubs and the gaming begins at the Casinos.
Availability For Sale