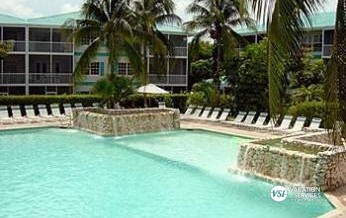 Our Caribbean Beach Resort is a relaxing tropical retreat, tucked away in a garden setting on Grand Cayman's famous 7 Mile Beach. The lush Caribbean gardens feature a swimming pool with two waterfalls, a Jacuzzi and plenty of room for sun bathing. Scuba diving right from the Resort on our own boat 7Milediver.
Being just a few steps off 7 Mile Beach assures privacy, yet instant access to one of the most beautiful beaches in the world. The Resort accommodations features large living and dining areas and private screened in porches. Every unit is beautifully furnished and equipped with two televisions and a DVD player. All units have central air conditioning and all rooms including the balcony have ceiling fans for those who prefer a tropical breeze.
Island Activity
PARASAILING
Their highly-trained staff will fly you single, double or triple to heights of 400-450 ft. Daily booking will depend on the weather.
HORSEBACK RIDING
Morning /Sunset rides, free transportation along Seven Mile Beach area, Visa/Mastercard is required to hold your reservation.
STINGRAY CITY TRIP–SUNSET CRUISE
Take you out using our 7 MILE DIVER boat. Half Day Snorkel Excursion which
includes 3 stops:
c. The famous Stingray City Bar
HELL & TURTLE FARM TRIP
An afternoon drive to West Bay to visit Hell and see over 16,000 green sea turtles, ranging in size from 6 ounces to 600 pounds each!
FISHING TRIP:
Deep Sea Fishing Expeditions – full day or half day deep sea fishing. Reef Fishing
ATLANTIS SUBMARINE
a. Atlantis Submarine Expedition – goes between 65 to 100 ft. Please see the weekly schedule from the front desk.
b. Atlantis Seaworld Explorer – goes to 6 feet, an hour tour includes diver fish feeding show. Please see the weekly schedule for the trip.
c. Wetlands kayak Safari Tour – A three hour trip including kayaking & snorkeling in South Sound.
JOLLY ROGER
a. Cocktail Cruise – includes snacks, open bar
b. Dinner Cruise – appetizer, main course, dessert, open bar.
c. Pirate Encounter Cruise – pirate show plus snorkeling trip.
***They provide transportation additional $5.00 US
7 Mile Watersports: Prepare to explore the stunning underwater world of the Cayman Islands. 7 Mile Watersports offer complete diving courses from beggining to advance.
CAYMAN ISLANDS HELICOPTERS
ISLAND TOUR
Half day/full day trip, Explore the beauty of the Cayman Islands. Unforgettable encounter with nature in all its beauty and diversity
PLACES TO GO
4. Queen Elizabeth II Botanical Park
6. Golf Course: Brittania Golf Club at Hyatt Regency
DINNER/LUNCH RESERVATION
Italian, Cuban, Mexican, American, Chinese, Indian, Thai and Local restaurants, let us know where you want to go wether for lunch or dinner and we will make the reservation for you.
Availability For Sale