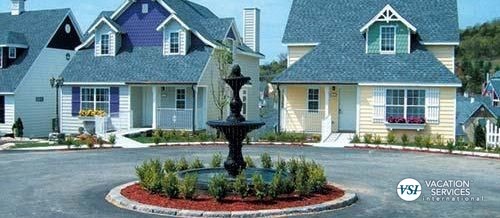 Location
Branson, MO
Stormy Point Village is an enchanting resort styled after a timeless Cape Cod fishing village. Located near Southwest Missouri's magnificent Table Rock Lake, the resort is surrounded by the beauty of the Ozark mountains, yet just minutes from the excitement of Branson's famed 76 Music Boulevard. The two- and three-bedroom cottages are both classic and contemporary, each featuring granite countertops, stainless steel appliances, a 42-inch plasma TV and a private porch for relaxing in the cool mountain air. Festiva resorts amenities include indoor and outdoor pools, walking trails, an exercise room, and a lounge on the property.
With Table Rock Lake just steps from your front door, you'll have easy access to 850 miles of shoreline perfect for fishing, boating, Jet Skiing, and more. Just down the road, the entire town of Branson is packed with fun from end to end. From historic downtown Branson, to the theaters and attractions along The Strip, to 19th-century fun at Silver Dollar City, the entire family will find plenty of fun to fill their days at one of America's classic vacation destinations.
Amenities:
Indoor pool, a spa tub, a sauna, and a fitness facility. Guest parking is complimentary. Additional amenities include a seasonal outdoor pool, a children's pool, and a concierge desk. This is a smoke-free property.
Multiple Bars & Restaurants
---
Including a poolside Cabana Restaurant with a bar overlooking the water park, and a Starbucks™.
2 Luxurious Clubhouses
---
2 luxurious clubhouses in a nautical theme can be used for relaxing, fun, special events, and gatherings.
Heated Pools & Waterpark
---
Heated indoor and outdoor pools including jacuzzi and waterpark with slides and more.
Fitness Center & Sauna
---
A well-equipped fitness room and sauna are available for all guests to work out and relax.
Picnic Area & Grills
---
You and your family can enjoy the outdoors with a wonderful outdoor grill and picnic area.
Walking & Biking Trails
---
Miles of trails with scenic views of the lake. Enjoy the trails by way of bike, walk, or run.
Availability For Rent
ID
Bedrooms
Price
VSI0008131514B
4
$1750

Usage: Annual Unit: TBA Week: 31 Arrival Date: 2015/07/31
Notes: BRING FIDO ON VACATION! Although this is not normally a pet-friendly resort this owner has a special addendum on his contract allowing for one pet (up to 40lbs) to stay in rental unit!
Availability For Sale
ID
Bedrooms
Price
VSI0012212201
2
$21,000

Usage: Annual Unit: TBA Week: FL Points: 300,000

VSI0005032101
TBA
$19,900

Usage: Even Unit: TBA Week: Float

VSI0012012003
2
$10,900

Usage: Triennial Unit: 408 c Week: 6

VSI0008252072
2
$8000

Usage: Annual Unit: TBA Week: Float

VSI0008172005
2
$12,000.00 neg

Usage: Triennial Unit: TBA Week: Float

VSI0003132001
4
$29,000 neg

Usage: Annual Unit: TBA Week: Float

VSI0012231908
3
$21,500
VSI0012031901
3
$12,900

Usage: Triennial Unit: TBA Week: Float

VSI0012021911
3
$9,500
VSI0011271905
3
$21,900

Usage: Odd Unit: TBA Week: Float

VSI0011121901
2
$8,000

Usage: Annual Unit: TBA Week: Float

VSI0011071903
2
$11,900

Usage: Triennial Unit: TBA Week: Float

VSI0011071901
2
$18,900

Usage: Even Unit: SP 162 Week: Float

VSI0009201902
3
$31,000

Usage: Odd Unit: TBA Week: Float

VSI0009091903
2
$6000

Usage: Triennial Unit: TBA Week: Float

VSI0009061901
2
$16,900

Usage: Odd Unit: 152 Week: 17

VSI0008151905
2
$8,000 nego

Usage: Triennial Unit: TBA Week: Float
Notes: Negotiable

VSI0008091901
2
$10,900

Usage: Triennial Unit: TBA Week: Float

VSI0008071901
3
$11,900

Usage: Triennial Unit: TBA Week: Float

VSI0007301901
2
$21,900

Usage: Odd Unit: TBA Week: Float

VSI0007251904
2
$45,900

Usage: Annual Unit: TBA Week: Float

VSI0007151908
2
$3,000

Usage: Triennial Unit: TBA Week: Float

VSI0006211912
3
$18,000

Usage: Annual Week: 45 Points: 135,000

VSI0006181908
2
$18,500
VSI0006141907
3
$13,500

Usage: Odd Unit: 201 Week: 28

VSI0006131903
3
$11,000

Usage: Triennial Unit: TBA Week: Float

VSI0006101909
2
$12,000 neg

Usage: Triennial Unit: TBA Week: Float

VSI0006101901
3
$10,000

Usage: Triennial Unit: TBA Week: Float

VSI0005301903
3
$19,900

Usage: Even Unit: TBA Week: Float

VSI0005281905
TBA
$15,500

Usage: Annual Points: 9,000

VSI0005091904
3
$10,000

Usage: Triennial Unit: TBA Week: Float

VSI0005021904
2
$12,900

Usage: Triennial Unit: TBA Week: Float

VSI0004111913
3
$5,000 neg

Usage: Annual Unit: TBA Week: Float

VSI0004011904
3
$40,000

Usage: Annual Unit: TBA Week: Float

VSI0003251911
4
$18,500 neg

Usage: Annual Unit: single cottage Week: floating

VSI0003221906
3
$13,900

Usage: Annual Unit: TBA Week: Float

VSI0003181904
4
$22,900

Usage: Triennial Unit: 216 Week: 47

VSI0003151905
2
$21,500
VSI0003151902
2
$9,000

Usage: Triennial Unit: TBA Week: Float

VSI0003121903
5
$47,500

Usage: Annual Unit: TBA Week: Float

VSI0003111902
3
$36,000
VSI0003051907
2
$9,800 neg

Usage: Triennial Unit: TBA Week: Float

VSI0002261905
2
$32,900

Usage: Annual Unit: 113 Week: 31

VSI0002221901
1
$11,900
VSI0002071901
2
$15,000 Nego.

Usage: Annual Unit: TBA Week: 13

VSI0002041950
2
$12,900

Usage: Triennial Unit: TBA Week: Float

VSi0001161908
2
$15,500

Usage: Odd Unit: TBA Week: Float Points: 4200

VSI0001041909
3
$11,500

Usage: Even Unit: TBA Week: Float

VSI0011271807
4
$12,100
VSI0011141803
2
$19,900

Usage: Annual Unit: TBA Week: Float

VSI0011131804
2
$10,500

Usage: Triennial Unit: TBA Week: Float

VSI0011011801
3
$22,900

Usage: Odd Unit: TBA Week: Float

VSI0010311802
2
$8,500

Usage: Triennial Unit: TBA Week: Float

VSI0009271802
2
$10,900

Usage: Triennial Unit: TBA Week: Float

VSI0009121801
2
$29,500

Usage: Even Unit: TBA Week: Float

VSI0009041809
4
$45,000

Usage: Annual Unit: TBA Week: Float
Notes: Can be split into 2/2 bedrooms

VSI0008291803
4
$37,900 neg

Usage: Annual Unit: TBA Week: Float

VSI0008291801
4
$53,000

Usage: Annual Unit: TBA Week: Float

VSI0008281806
2
$8,000

Usage: Triennial Unit: TBA Week: Float

VSI0008201807
3
$11,900

Usage: Triennial Unit: TBA Week: Float
Notes: Points start in 2021 VIP

VSI007301302B
3
$38,000

Usage: Annual Unit: TBA Week: Float Red
Notes: Summer Winds VIP Membership -No Exchange Fees within Interval Int'l Resorts -Unlimited Additional Family Weeks ($399 to $999) VIP Charter Membership (includes special rates on cottages) Golf & Spa Discounts Cruise Benefits

VSI0008151801
4
$20,000

Usage: Odd Unit: TBA Week: Float
Notes: Admiral Club member Points start in 2019

VSI0008101806
2
$15,900 neg No Closing Costs!

Usage: Odd Unit: TBA Week: Float
Notes: Two free weeks for 2019 All closing costs covered!

VSI0008081805
2
$6000 Nego

Usage: Triennial Unit: TBA Week: Float
Notes: Owner is willing to pay 50% of closing costs if purchased before August 2019

VSI0008031802
2
$25,000

Usage: Annual Unit: TBA Week: Float

VSI0007181802
2
$21,000

Usage: Odd Unit: TBA Week: Float

VSI0007161801
2
$9000

Usage: Annual Unit: TBA Week: Float
Notes: 2018 Open

VSI0007061802
4
$17,000 neg

Usage: Even Unit: TBA Week: Float

VSI0006281802
2
$21,900 OBO

Usage: Odd Unit: TBA Week: Float

VSI0006261803
2
$15,000 neg

Usage: Annual Unit: TBA Week: Float

VSI0006251807
2
$15,900

Usage: Even Unit: TBA Week: Float

VSI0006041803
TBA
$12,900

Usage: Triennial Unit: TBA Week: Float

VSI0006011804
3
$13,000 neg

Usage: Odd Unit: TBA Week: Float

VSI0005251803
4
$35,900

Usage: Annual Unit: TBA Week: Float
Notes: 2019

VSI0005111807
4
$22,900

Usage: Annual Unit: TBA Week: Float
Notes: Main: Deeded week 44, unit 217 Admiral Club

VSI0005031807
2
$17,500

Usage: Annual Unit: TBA Week: Float

VSI0005021804
3
$25,000

Usage: Annual Unit: TBA Week: Float

VSI0004271803
2
$14,900

Usage: Odd Unit: TBA Week: Float

VSI0004271801
2
$25,000 neg

Usage: Odd Unit: TBA Week: Float

VSI0004241813
2
$8500 Nego.

Usage: Triennial Unit: TBA Week: Float

VSI0002211808
2
$18,500

Usage: Annual Unit: TBA Week: Float

VSI0002151805
2
$13,500

Usage: Annual Unit: TBA Week: Float

VSI0002021803
3
$34,900

Usage: Annual Unit: TBA Week: Float

VSI00001031813
4
$21,500

Usage: Even Unit: TBA Week: Float
Notes: Admiral's Club

VSI00012271702
2
$10,500

Usage: Annual Unit: TBA Week: Float
Notes: 2020 VIP Charter

VSI00012211702
2
$26,900

Usage: Annual Unit: TBA Week: Float

VSI00012051713
2
$13,000

Usage: Triennial Unit: TBA Week: Float
Notes: Contract # 93147

VSI0010231704
2
$22,000 P/N

Usage: Annual Unit: TBA Week: Float
Notes: 2018 open VIP Charter

VSI0010121706
2
$15,000

Usage: Annual Unit: TBA Week: Float

VSI0010121702
4
$28,900 Nego.

Usage: Annual Unit: TBA Week: Float

VSI0010101703
2
$19,900

Usage: Even Unit: TBA Week: Float

VSI0010041705
2
$24,900

Usage: Annual Unit: TBA Week: Float

VSI00010031711
4
$36,900

Usage: Annual Unit: TBA Week: Float

VSI0009211703
2
$22,900

Usage: Annual Unit: TBA Week: Float

VSI0009211701
2
$29,500

Usage: Annual Unit: TBA Week: Float

VSI0009011709
2
$18,900

Usage: Annual Unit: TBA Week: Float

VSI0008241707
3
$39,900

Usage: Annual Unit: TBA Week: Float

VSI0008241701
2
$12,000 neg

Usage: Triennial Unit: TBA Week: Float

VSI0008071707
3
$29,000

Usage: Annual Unit: TBA Week: Float

VSI0006191701
3
$17,500

Usage: Odd Unit: TBA Week: Float
Notes: Week 1-9 usage: pay upgrade fee for yellow time VIP charter bookings

VSI0006011704
2
$$10500

Usage: Annual Unit: TBA Week: Float
Notes: So many words to describe Stormy Point Village : cozy, friendly, entertaining, convenient, beautiful... The list goes on and on. This property is in a great location to enjoy Branson shopping, sight seeing, golf, and so much more. We have also had visits when we rarely left the property, the cottages are so relaxing and clean, and so many things to do on site. Accommodations include multiple pools (indoor and outdoor), hot tubs, playground site, outdoor picnic pavilions, along with beautiful Branson scenery.

VSI0005151708
4
$29,900

Usage: Annual Unit: TBA Week: Float

VSI0005121707
3
$9,800

Usage: Triennial Unit: TBA Week: Float

VSI0005081701
4
$6,000 Nego.

Usage: Even Unit: TBA Week: Float
Notes: Admiral level

VSI00042717006
4
$28,900

Usage: Odd Unit: TBA Week: Float

VSI0004271708
4
$28,900

Usage: Even Unit: TBA Week: Float

VSI00004051797
3
$10,900

Usage: Triennial Unit: 96 Week: 1

VSI0003271727
4
$15,000 neg

Usage: Annual Unit: TBA Week: Float
Notes: **Maintenance fees can be divided over 2 years.

VSI0003271726
4
$39,000

Usage: Annual Unit: TBA Week: Float

VSI0003031707
2
$6900 neg

Usage: Even Unit: TBA Week: Float

VSI0002271704
3
$29,900

Usage: Annual Unit: TBA Week: Float

VSI0002091703
4
$19,900

Usage: Odd Unit: TBA Week: Float

VSI0001111708
3
$20,200

Usage: Even Unit: TBA Week: Float

VSI0001091709
3
$15,000

Usage: Annual Unit: TBA Week: Float

VSI0001031701
2
$18,000 neg

Usage: Annual Unit: TBA Week: Float

VSI00012211603
3
$16,975

Usage: Annual Unit: TBA Week: Float

VSI00011301666
2
$14,900

Usage: Triennial Unit: TBA Week: Float

VSI00011221688
2
$10,900

Usage: Annual Unit: TBA Week: 26

VSI0006281618
2
$7999 Nego.

Usage: Triennial Unit: 139 Week: 26

VSI0006141602
3
$11000

Usage: Triennial Unit: 161 Week: 40

VSI0005241658
2
$19,995

Usage: Odd Unit: TBA Week: Float
Notes: Negotiable.

VSI0005111603
3
$19500

Usage: Annual Unit: TBA Week: FLoat

VSI0003151611
2
$11,000

Usage: Triennial Unit: TBA Week: 4

VSI0002091608
3
$23,000

Usage: Triennial Unit: TBA Week: Float

VSI0011301507
2
$10900

Usage: Triennial Unit: SPV 95 Week: 19

VSI0010121503
3
$8500

Usage: Triennial Unit: TBA Week: Float

VSI0010141502
3
$21,500

Usage: Odd Unit: 71 Week: 28 Points: 212000

VSI0008271502
4
$29,000 Price negotiable

Usage: Annual Unit: TBA Week: Float

VSI08251504
4
$24,000 Price Negotiable

Usage: Annual Unit: TBA Week: Float

VSI0007271508
2
$25000

Usage: Annual Unit: TBA Week: FLoat Points: 8000

VSI0007271507
3
$19,200

Usage: Annual Unit: TBA Week: Float

VSI0007241501
2
$7500

Usage: Triennial Unit: TBA Week: Float

VSI0007231509
2
$5,000

Usage: Even Unit: TBA Week: Float Points: 105000

VSI0007131510
2
$8,000 Price Negotiable

Usage: Triennial Unit: TBA Week: Float
Notes: 2015 and 2018 Usage is Open

VSI0007131506
2
$6,250

Usage: Annual Unit: TBA Week: Float
Notes: Negotiable

VSI0007061589
2
$22,900

Usage: Annual Unit: TBA Week: Float

VSI0005051508
2
$19900

Usage: Even Unit: 108 Week: 17

VSI0005031513
2
$14900

Usage: Odd Unit: TBA Week: Float

VSI0004301510
2
$9500

Usage: Triennial Unit: TBA Week: 47

VSI0004271507
2
$13900

Usage: Even Unit: TBA Week: Float
Notes: Price negotiable.Price is lowered to 10000.00

VSI0004241517
2
$15,000

Usage: Annual Unit: TBA Week: Float

VSI0004071504
2
$18900

Usage: Annual Unit: TBA Week: Float

VSI0003311584
2
$6,000

Usage: Triennial Unit: SPV133 Week: Float
Notes: Red Season 2016 Usage

VSI0003091503
3
$12900

Usage: Triennial Unit: TBA Week: Float

VSI0002251502
2
$22900

Usage: Annual Unit: TBA Week: Float

VSI0002201503
2
$9900

Usage: Triennial Unit: TBA Week: Float

VSI0002111510
2
$10900

Usage: Triennial Unit: TBA Week: Float

VSI0001301511
3
$9,000

Usage: Triennial Unit: TBA Week: Float

VSI05011312B
2
$7,000 neg

Usage: Triennial Unit: TBA Week: Float

VSI12031406
3
$13900

Usage: Triennial Unit: TBA Week: Float

VSI11181407
3
$4900

Usage: Triennial Unit: TBA Week: Float

VSI08281401B
3
$12000

Usage: Triennial Unit: TBA Week: Float
Notes: Make an offer.

VSI11071499
2
$7800

Usage: Triennial Unit: STV121 Week: Float
Notes: Make an offer.

VSI10301404
TBA
$5,000 Negotiable

Usage: Annual Unit: TBA Week: Float
Notes: 50 years contract, can be renewed after 50th year for $595.00

VSI08121309A
2
$11999

Usage: Triennial Unit: TBA Week: Float

VSI0006091558
2
$11,000 p/n

Usage: Odd Unit: 15 Week: Float
Notes: Make an offer.

VSI09251408
3
$28,000

Usage: Annual Unit: TBA Week: Float
Notes: 2014 Usage deposited, 2015 Usage Open

VSI09111404
3
$8,900

Usage: Triennial Unit: TBA Week: Float
Notes: Contract includes a VIP Charter Membership, which includes: -$129 all day pontoon rentals -Unlimited Family Weeks for additional vacations -Exchange opportunity with Interval International -Stormy Point Travel and Cruise package ($6995 value) -Unlimited VIP charter rates on Cottage use ($100/night for 3 bdrm) -VIP owner referral program ($200 per referral) Maint fees only due every 3 years

VSI09101403
3
$17,500

Usage: Triennial Unit: TBA Week: Float
Notes: VIP Charter ownership, Usage available 2017

VSI08141410
3
$20,000

Usage: Annual Unit: TBA Week: Float
Notes: Usage available starting 2015

VSI07291403
2
$25900

Usage: Annual Unit: TBA Week: Float

VSI02131306B
2
$12975

Usage: Even Unit: TBA Week: Float
Notes: Price Negotiable!

VSI07151403
2
$19995 price negotiable

Usage: Annual Unit: TBA Week: Float

VSI07151402
2
$18444

Usage: Annual Unit: TBA Week: Float

VSI07011410
3
$12000

Usage: Triennial Unit: TBA Week: Float
Notes: Maint fee due every three years.

VSI06121401
2
$11900

Usage: Annual Unit: SPV177 Week: 42

VSI05071401
2
$12900

Usage: Triennial Unit: SPV 192 Week: 47

VSI04301401
3
$17500

Usage: Annual Unit: TBA Week: Float

VSI04291408
3
$9900

Usage: Triennial Unit: SPV96 Week: 30

VSI09201309A
2
$9995

Usage: Odd Unit: TBA Week: Float
Notes: Make an offer.

vsi04101405
2
$6995

Usage: Triennial Unit: 212 Week: 41

vsi040714001
2
$14000

Usage: Triennial Unit: TBA

VSI04011410
2
$10900

Usage: Triennial Unit: SPV 103 Week: Float

VSI0401141499
2
$5,500

Usage: Triennial Unit: TBA Week: Float
Notes: Make an offer.

VSI03251406
2
$12900

Usage: Triennial Unit: TBA Week: Float

VSI03111402
3
$9900

Usage: Triennial Unit: TBA Week: Float

VSI08291302A
2
$16500

Usage: Annual Unit: TBA Week: Float
Notes: Make an offer.

VSI02071403
2
$10500

Usage: Triennial Unit: SPV 75 Week: 41

VSI09271306B
2
$6300 P/n

Usage: Even Unit: TBA Week: Float

VSI02031402
2
$16,000

Usage: Annual Unit: SPV210 Week: Float
Notes: Pricing is negotiable.. This comes with a VIP Charter Membership which includes unlimited family weeks for $299, pontoon boat rentals for $129/day and more. You can split your week into 4 nights & 3 night increments and one of the stays may include weekend. Accommodations: Full kitchen with granite countertops and stainless steel appliances; 42" plasma TV; Private porch & grill; Air conditioning; Wood floors; Washer/dryer Resort Amenities: Outdoor, Indoor & Children's pools; Childrens' playground; Video rentals; Walking trails; Fitness center; Clubhouse; Bar & grill

VSI01081407
2
$5700

Usage: Triennial Unit: TBA Week: Float

VSI12121303
2
$20000

Usage: Annual Unit: TBA Week: Float
Notes: Negotiable.

VSI11191306
3
$22999

Usage: Annual Unit: TBA Week: Float
Notes: Negotiable.

VSI11181308
4
$35000

Usage: Odd Unit: SPV-193 Week: 47

VSI10231317
2
$23000

Usage: Annual Unit: TBA Week: Float

VSI10091317
3
$6,000

Usage: Triennial Unit: TBA Week: Float
Notes: Make an offer.

VSI10041302
2
$24900

Usage: Annual Unit: TBA Week: Float

VSI09261305
3
$23500

Usage: Annual Unit: TBA Week: Float

VSI09161304
2
$12,000

Usage: Annual Unit: TBA Week: Float
Notes: 2016 Maintenance fees are paid.

VSI09041303
2
$18000

Usage: Even Unit: TBA Week: Float

VSI08191301
3
$9900

Usage: Triennial Unit: TBA Week: Float

VSI07311301
2
$10900

Usage: Triennial Unit: TBA Week: Float Points: 9000

VSI07121306
2
$8900

Usage: Triennial Unit: TBA Week: Float

VSI06191306
3
$22000

Usage: Even Unit: 135 Week: 37

VSI05241306
2
$11900

Usage: Triennial Unit: TBA Week: Float

VSI04241311
2
$20,000

Usage: Annual Unit: SPV136 Week: Float
Notes: Floating week usage in Red season.

VSI09141109B
2
$10999

Usage: Even Unit: 94 Week: 42
Notes: Make an offer!

VSI03051309
2
$10000

Usage: Triennial Unit: TBA Week: Float

VSI02121314
3
$10900

Usage: Triennial Unit: 101 Week: 51

VSI02081307
3
$28900

Usage: Annual Unit: TBA Week: Float

VSI02061304
2
$19900
VSI02061303
2
$9799

Usage: Triennial Unit: SPV196 Week: 21

VSI01041305
2
$24900

Usage: Annual Unit: TBA Week: Float

VSI12191210
4
$10000

Usage: Even Unit: TBA Week: Float

VSI12031201
3
$28900

Usage: Annual Unit: TBA Week: Float

VSI11271212
4
$39000

Usage: Annual Unit: 193 Week: 12
Notes: Make an offer.

VSI11131202
2
$21900

Usage: Annual Unit: STV177 Week: Float

VSI09181209
2
$11900

Usage: Triennial Unit: TBA Week: FLoat

VSI09101204
2
$16900

Usage: Even Unit: TBA Week: FLoat

VSI08221201
2
$10900

Usage: Even Unit: TBA Week: Float

VSI08201208
2
$11900

Usage: Triennial Unit: TBA Week: Float

VSI08161205
2
$9000

Usage: Triennial Unit: TBA Week: FLoat

VSI08141210
2
$15000

Usage: Odd Unit: TBA Week: FLoat

VSI08131208
3
$9000

Usage: Triennial Unit: TBA Week: Float

VSI08021203
2
$17900

Usage: Odd Unit: TBA Week: Float

VSI07261211
2
$5,500 neg

Usage: Triennial Unit: 196 Week: 4
Notes: Benefits that come with this property- No exchange fees among Summer Winds resorts. You can recoup your maintenance fees if not used. Stormy Point is a wonderful resort with all the amenities you would expect. it fetures two pools two bars and a resturant. Only minutes from Table Rock Lake and only 10 minutes from down town Branson. This property also comes with VIP Charter Membership which gives you the following, Perfered exchanges to all internal resorts, Unlimited additional family weeks, Personalized internet access number. Stormy Point travel and cruise year around discounts for golf, spa, getaways and custom vacations, special rates on other Stormy Point cottages. Price negotiable.

VSI07241205
2
$9200

Usage: Triennial Unit: TBA Week: Float

VSI07201214
3
$8900

Usage: Even Unit: TBA Week: Float

VSI07201207
2
$9600

Usage: Annual Unit: TBa Week: Float

VSI07201206
2
$10200

Usage: Triennial Unit: SPV177 Week: 44

VSI07191207
2
$7499

Usage: Triennial Unit: TBA Week: 41
Notes: Make an offer.

VSI07171204
2
$11500

Usage: Triennial Unit: TBA Week: Float

VSI07101208
2
$23900

Usage: Annual Unit: TBA Week: Float
Notes: Pricing is negotiable.

VSI07101203
2
$7000

Usage: Triennial Unit: TBA Week: Float

VSI07051207
2
$13900

Usage: Odd Unit: TBA Week: Float

VSI07051203
2
$18900

Usage: Annual Unit: 140 Week: 36

VSI07051202
2
$15900

Usage: Odd Unit: TBA Week: Float

VSI07031204
3
$25500

Usage: Even Unit: TBA Week: Float

VSI06291213
2
$3000

Usage: Triennial Unit: TBA Week: FLoat

VSI06261204
3
$9999

Usage: Odd Unit: TBA Week: Float
Notes: Make an offer.

VSI06211202
2
$21500

Usage: Even Unit: TBA Week: Float
Notes: Negotiable and Great Price! Phase 3 location. Resort accommodates pets up to 40lbs.

VSI06051203
2
$8900

Usage: Annual Unit: SPV84 Week: 31
Notes: Price is very negotiable.

VSI05291203
3
$5000

Usage: Triennial Unit: 128 Week: 19
Notes: Pricing is negotiable. This property is listed for half of the retail price. Maintenance fee is paid for 2 years.

VSI05171218
2
$18000

Usage: Odd Unit: SPV 152 Week: 14
Notes: Pricing is negotiable.

VSI05081204
2
$8990

Usage: Triennial Unit: TBA Week: 35

VSI05071206
2
$14900

Usage: Annual Unit: SPV91 Week: Float

VSI05041205
2
$8000

Usage: Triennial Unit: TBA Week: Float

VSI04301206
2
$9,000

Usage: Triennial Unit: TBA Week: Float

VSI04181203
2
$9200

Usage: Annual Unit: TBA Week: Float

VSI04161205
2
$3,000 Negotiable

Usage: Triennial Unit: TBA Week: Float

VSI04121205
2
$9,000

Usage: Triennial Unit: TBA Week: Float
Notes: Pricing is negotiable.

VSI04101210
2
$26900

Usage: Annual Unit: TBA Week: Float

VSI03301205
2
$7900

Usage: Triennial Unit: TBA Week: Float
Notes: Pricing is negotiable. Property is paid in full and sellers are very motivated. Make an offer!!!! Washer/dryer, fireplace, tvs in each bedroom, restaurant on site. In addition to your entitled week, you also have the option to purchase family time, 2BR = $432/week, 3BR = $462/week. This way, in addition to your week, you can also come back other times for a very inexpensive week. We have done this a couple of times and love it!!!

VSI03281202
2
$17900

Usage: Even Unit: TBA Week: Float

VSI03261201
3
$4,900

Usage: Even Unit: TBA Week: Float
Notes: Negotiable. Make an offer.

VSI03231206
2
$13500

Usage: Odd Unit: TBA Week: Float
Notes: Pricing is negotiable.

VSI03221210
2
$10900

Usage: Triennial Unit: TBA Week: Float
Notes: Pricing is negotiable

VSI03221204
3
$16000

Usage: Even Unit: TBA Week: Float

VSI03211204
3
$8500

Usage: Annual Unit: TBA Week: Float

VSI03161209
2
$19000

Usage: Odd Unit: TBA Week: Float

VSI03151204
2
$9900

Usage: Triennial Unit: TBA Week: Float

VSI03131207
2
$21900

Usage: Annual Unit: TBA Week: Float

VSI02291205
2
$8000

Usage: Triennial Unit: TBA Week: Float
Notes: Pricing is negotiable.

VSI02281201
2
$11900

Usage: Annual Unit: TBA Week: Float
Notes: Pricing is negotiable.

VSI02211202
4
$21000

Usage: Even Unit: TBA Week: Float

VSI02091209
2
$7000

Usage: Annual Unit: TBA Week: Float

VSI02091201
2
$8500

Usage: Triennial Unit: TBA Week: Float
Notes: Pricing is negotiable.

VSI02071202
2
$8900

Usage: Triennial Unit: PSPV3 Week: Float
Notes: Pricing is negotiable.

VSI02031207
2
$28500

Usage: Annual Unit: 81 Week: 17
Notes: Pricing is negotiable.

VSI02031205
2
$9995

Usage: Annual Unit: TBA Week: Float

VSI02021205
2
$19900

Usage: Even Unit: TBA Week: Float

VSI01311201
2
$15900

Usage: Even Unit: TBA Week: Float
Notes: Pricing is negotiable.

VSI01271202
3
$9200

Usage: Triennial Unit: SPV153 Week: Float

VSI01241202
2
$8600

Usage: Even Unit: 140 Week: 4

VSI01231210
3
$5000

Usage: Triennial Unit: TBA Week: Float

VSI01211214
2
$6000

Usage: Triennial Unit: TBA Week: Float

VSI08111104
2
$10900

Usage: Triennial Unit: TBA Week: Float
Notes: All offers are negotiable.

VSI01171207
2
$9499

Usage: Annual Unit: TBA Week: Float
Notes: Pricing is negotiable.

VSI01171204
3
$11000

Usage: Triennial Unit: TBA Week: Float

VSI01121201
3
$11125

Usage: Triennial Unit: TBA Week: Float

VSI01101208
3
$7500

Usage: Triennial Unit: 111 Week: 6
Notes: Pricing is negotiable.

VSI01061211
2
$9500

Usage: Even Unit: 43 Week: 4

VSI01051211
4
$31,000

Usage: Odd Unit: TBA Week: Float
Notes: Negotiable.

VSI01051207
2
$12900

Usage: Even Unit: TBA Week: Float

VSI12301101
2
$18900

Usage: Odd Unit: TBA Week: Float
Notes: Pricing is negotiable.

VSI12291105
2
$3000

Usage: Triennial Unit: TBA Week: Float

VSI12151105
2
$10500

Usage: Triennial Unit: TBA Week: Float
Notes: Pricing is negotiable.

VSI12111102
3
$31000

Usage: Annual Unit: TBA Week: Float
Notes: Pricing is negotiable.

VSI12061111
2
$7500

Usage: Triennial Unit: TBA Week: Float
Notes: Pricing negotiable

VSI12021102
2
$16900

Usage: Odd Unit: spv131 Week: Float

VSI11301107
2
$9500

Usage: Triennial Unit: TBA Week: Float
Notes: Pricing is negotiable. Make an offer.

VSI11231109
3
$29900

Usage: Annual Unit: TBA Week: Float
Notes: Pricing is negotiable, please make an offer.

VSI11141113
2
$9000

Usage: Triennial Unit: TBA Week: Float
Notes: Newly Reduced Price! Pricing is negotiable.

VSI11091105
2
$28499

Usage: Annual Unit: TBA Week: Float

VSI11091104
2
$3500

Usage: Triennial Unit: TBA Week: Float
Notes: Pricing is negotiable. Immediate usage available.

VSI11081113
2
$5000

Usage: Triennial Unit: TBA Week: Float

VSI11011111
2
$11000

Usage: Annual Unit: TBA Week: Float

VSI11011103
3
$29900

Usage: Annual Unit: TBA Week: Float

VSI10311108
2
$5000

Usage: Triennial Unit: TBA Week: Float
Notes: Pricing is negotiable.

VSI10141102
2
$9750

Usage: Even Unit: TBA Week: Float

VSI10111110
2
$14900

Usage: Even Unit: TBA Week: Float
Notes: Pricing is negotiable.

VSI09291103
2
$10900

Usage: Triennial Unit: TBA Week: Float

VSI09271113
3
$27900

Usage: Even Unit: TBA Week: Float

VSI09261108
2
$15900

Usage: Annual Unit: TBA Week: Float

VSI09261101
2
$15900

Usage: Annual Unit: TBA Week: Float

VSI07231103
2
$5000

Usage: Annual Unit: TBA Week: Float
Notes: VIP Charter Membership Unlimited Family Weeks to Stormy Point Cruise options available. Discounts available for golf, spas and other services.

VSI09151117
3
$9000

Usage: Odd Unit: TBA Week: Float
Notes: Pricing is negotiable. Brand new water park available! Wonderful shops and restaurants on site!

VSI09091107
2
$29000

Usage: Annual Unit: TBA Week: Float

VSI08231111
2
$10000

Usage: Annual Unit: TBA Week: Float

VSI081911050
2
$9900

Usage: Annual Unit: TBA Week: Float
Notes: Pricing negotiable.

VSI08191101
3
$10000

Usage: Triennial Unit: TBA Week: Float
Notes: Pricing is negotiable.

VSI08151104
4
$36900
VSI08031106
2
$15000

Usage: Even
Notes: Pricing is negotiable, please make an offer.

VSI08031105
2
$16900

Usage: Even
Notes: Has VIP Charter Membership (Part of Vacation club)

VSI08021108
3
$9000
VSI08021107
2
$6300

Usage: Annual
Notes: Pricing is negotiable. Make an offer.

VSI08011107
2
$10900
VSI07051102
2
$6800
VSI07051101
2
$18500

Usage: Annual
Notes: Pricing is negotiable.

VSI06231102
2
$12500

Usage: Annual
Notes: The pricing is negotiable.

Show All