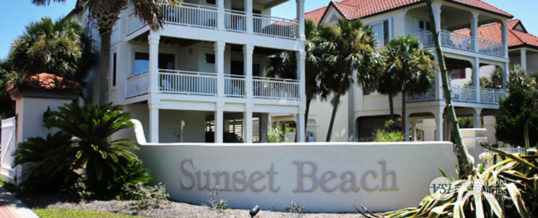 Location: Sarasota FL
Vacation memories that will last a lifetime…
Remember a time when things were simple? Family vacations were fun, not stressful. Well, we do! We grew up here. Four generations of our family, since 1943. Living in the tranquility of this island paradise has been like a vacation every day for us. Siesta Key, once just a sleepy little fishing village is now a cosmopolitan little island and home to the #1 beach in America. Due to the quartz, white beach sand, more and more visitors have fallen in love with this friendly little beach village.
Are you in search of the perfect beach wedding location? Sunset Beach Resort has become one of the premier locations for beach weddings! The unique location of the property provides the ultimate backdrop to a fairytale wedding with the blue-green water and orange sunset highlighting the background of each photo taken. Take a look at our Event page to see the breathtaking photos of some of our brides and grooms.
Once you arrive at Sunset Beach Resort, you can park your car for the duration. Everything you need is within walking distance. Siesta Key Village is a few short blocks away with shops and restaurants, a grocery store and pharmacy.
Need a break from the rest of the world? Lose yourself in the breeze on one of our hammocks under the sea grape trees. Watch as the many dolphins and families of manatee swim close to the shore. Want a closer look? Take out one of our stand-up paddle boards or kayaks. You won't believe the beauty up close, floating around in the clear Gulf of Mexico.
Do you crave the simplicity of island life, but love the amenities that a luxury beachside resort can offer? Come enjoy a vacation to remember at Sunset Beach Resort. You won't ever want to leave. We haven't….not for the past 70 years!
Availability For Sale