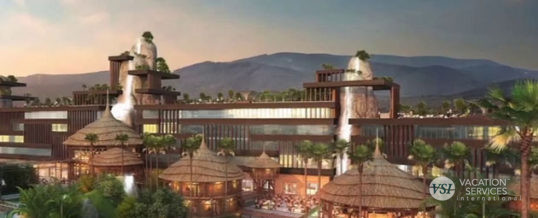 Location: Puerto Vallarta Mexico.
The Cascades Nuevo Vallarta  all offered by the Vidanta group in its main destinations, will be in its equivalence what would be the Mayan Palace in terms of the level of luxury, space, comfort, cost and amenities in addition to those who already have that destination, both Puerto Vallarta and Nuevo Vallarta will be the new addition but now with a small change adapted to what is the new The Parks Nuevo Vallarta Vidanta.
that as you already know is going to be the cherry on the cake in question to entertainment attractions in this tourist destination, and as is customary and has been reflected in its other destinations, the new trend of this company to reflect or approach their accommodations blend perfectly with their amenities give way to new and better options, all this with a touch of quality characteristic of this company
THE GRAND CASCADES ENTERTAINMENT COLLECTION  AT VIDANTA NUEVO VALLARTA
This will be a great update starting with their member's vacations, in which a new portfolio has been created with its entertainment division for the Puerto Vallarta and Nuevo Vallarta región.
Said benefits will be mainly benefited those members who have a membership in this private Residential Club, so they will be the first and the main ones to start enjoying this new concept that together with the park that is currently being built and is soon to conclude will have the opportunity to start enjoying it, and as is already a tradition in vidanta group, to provide more and better experiences to its members and their families of members will soon become a reality
Availability For Sale