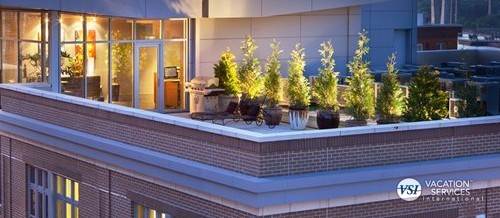 Location:
Savannah, GA
Enjoy the epitome of southern charm and hospitality at Bluegreen's The Studio Homes at Ellis Square in historic Savannah, Georgia.
Savannah is a fashionable city adorned with century-old architecture. In the heart of it all sits The Studio Homes at Ellis Square Resort. From the moment you arrive, you will feel ensconced with a sense of Southern welcome with a friendly greeting from our hospitality specialists who will attend to your every need and leave no doubt that this Savannah resort is truly your home away from home. Begin your vacation by having our valet park your car. Or self-park then head up to the private rooftop lounge for panoramic views of downtown Savannah, the Savannah River and distant Tybee Island. Accommodations include your choice of one- and two-bedroom suites with fully-equipped designer kitchens featuring stainless steel appliances. You'll also enjoy special amenities such as tile showers, high ceilings, and Wi-Fi Internet access.
The Studio Homes at Ellis Square Resort is perfectly situated to access everything Savannah has to offer. Stroll through Forsyth Park and witness a decorative fountain that dates back to 1858 or head to City Market, the original site used by farmers and traders. Today, the marketplace is alive with shopping, dining and entertainment options. Explore River Street and discover nine blocks of renovated warehouses featuring galleries, boutiques, pubs and some of the best seafood in the area. Of course, no trip to Savannah is complete without learning the historical significance of Savannah's Squares. Put on your walking shoes and walk back to 1733 and learn the background behind how this city was built.
Amenities:
Concierge
Valet Parking
BBQ Grills
Availability For Rent