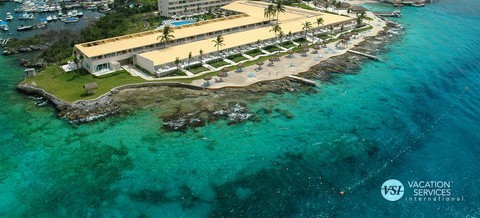 Location: 
Cozumel, Mexico
With breathtaking views of the crystalline Caribbean, Presidente Cozumel Resort & Spa is ideally situated on a beautiful Mexican island. Set on half a mile of white sandy beach, you can swim, snorkel or scuba dive the clear waters of the world's second-largest coral reef, where indigenous colourful fish abound. If relaxation is your aim, enjoy two outdoor pools, experience signature spa treatments in oceanfront huts or savour the menu and beach views at Caribeño open-air restaurant.
Amenities:
Business Services
Business Center
Copying
Courier Service
E-mail & Internet
Facsimile
Mobile Phone Rental
PC available
Service Provider: Telmex
Printer
Private Limousine
Technical Concierge
Unstaffed Business Center
Analog Dial-up
Service Provider: Telmex
High-speed Internet Access
Service Provider: Telmex
Wireless Data Connection
Service Provider: Telmex
Health and Fitness Center (On-site)
Our Fitness Center is the perfect balance between fun and a healty vacation. You'll exercise yourself with our high technology equipment while enjoy your vacations.
Health/Fitness Center On-Site
Fitness Centre Type:   EXTENSIVE
Year Last Renovation Of Equipment: 2007
Health and Fitness Center (Off-site)
Health/Fitness Center Off-Site
Fitness Centre Type: EXTENSIVE
Average Charge:
Spa Facilities
A boutique spa experience offering unique therapeutic and revitalizing treatments. Signature treatments incorporate indigenous fruits, plants, herbs and other natural elements, using ancient Mayan traditional techniques.
Public Space Data Services
High-speed Internet Access
Wireless Data Connection
Internet Browser TV
Entertainment and Recreation
Two lighted tennis courts, ping pong table, ceramics painting, putting green, dive center, Spa, Chiqui club, board games and other activities are available.
Recreation & Sports Court
Outdoor Pool
Activities and Services for Children
Iguana Search: the "Iguanas' Houses", 3 special shelters for this kind of reptiles. Endemic iguanas can also be found in these shelters. The hotel's "Chiqui Club", gets involved with the iguanas by feeding, caring and finding them around the property
kids can paint ceramic figures as a traditional talavera pattern, making their own colourful creation, this is our way to mix tradition with fun!
The resort has developed a special program which includes our plant nursery, kids have the possibility to visit, learn and know about our local flora and several environmental practices implemented among the resort and its surroundings.
Baby-Sitting
Housekeeping and Laundry Services
Daily Housekeeping
Dry Cleaning Pickup/Laundry
Same Day Dry Cleaning
Shoe Shine
Miscellaneous
ATM/Cash Machine
Concierge Services
Dedicated Lounge (or 24 Hour Lounge)
Grocery Shopping Service
Ice Machine
Porter/Bellman
Safety Deposit Box available at Front Desk
Link to resort: http://www.presidentecozumel.com/
Availability For Rent