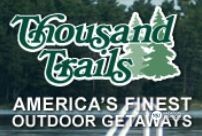 The Difference! When you visit a Thousand Trails RV Resort & Campground, you'll notice the difference! After all, with over 40 years of experience in providing the best in outdoor destinations, recreation and family camping, we are still just as committed to making sure our properties are Clean, Safe, and Fun for our guests as when we opened our first campground.
Why We Are Number One Thousand Trails is the largest and most successful provider of RV resorts and campgrounds in North America with over 80 locations in 22 states and British Columbia, Canada.  We have combined the beauty and relaxation of a scenic nature preserve with the luxury of resort-style amenities.  At each resort, we provide an environment with park rangers who look out for our guests' safety – so you can focus on having fun.  Today our parks are enjoyed by more than 100,000 member families and guests. Thousand Trails has introduced the Zone Camping Pass, which provides a low-investment way to enjoy the benefits of resort-style camping on an annual basis.  There are no sale presentations, no expensive up-front fees, and no long-term commitments.
Vacation Destinations Thousand Trails Campgrounds are located in the country's most desirable resort and vacation destinations.  You'll get to enjoy sunny Florida destinations like Orlando , the serenity of the Pennsylvania Dutch Country, the beauty of the Eastern Seaboard, Arizona's Red Rock Mountains, the Best Fishing Lakes in Texas and the Pacific Coast from California to Washington!  We offer a lifestyle of leisure and vacation activities, from quiet picturesque beauty to fun themed weekends.
Availability For Sale