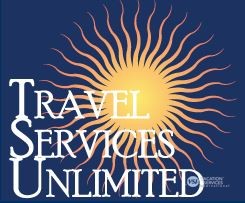 Mission Statement – In the crowded marketplace of travel providers and Dot Coms, it is crucial to have a savvy, well-seasoned team strategizing, coordinating and looking out for their clients' best interest. We, at Travel Services Unlimited, believe that consistent, ethical and quality performance with our customers, vendors, employees and community will result in loyal, long term relationships.

We believe our service should exceed industry standards and be the best value for the customer. We will provide our members with the best services, selection and savings the industry can provide and introduce them to the luxury style traveling. Travel Services Unlimited will provide them with the ability to vacation more often while allowing them to keep more money in their pocket and enjoy the many splendid wonders that world traveling provides.

We can never be less than the best!

 Luxury Lifestyle – A Travel Services Unlimited membership changes both the way you vacation and the way you live your life. Treat yourself to upscale accommodations such as multiple bedrooms, spectacular views, plush bedding and more while paying only a fraction of the retail cost.
Flexible Travel – Plan your retreat where you want, when you want! With Travel Services Unlimited you have access to condos, hotels, cruises and all-inclusive getaways all over the world!
Variety & Choice– Visit over 10,000 beaches, mountain, city and leisure destinations worldwide knowing the Travel Services Unlimited standard awaits you there!
Personalized Attention – From pre-departure travel planning to arriving back at home, you will experience effortless travel knowing Travel Services Unlimited is with you every step of the way.
Travel Broker Concierge– All members have access to our high level of expertise and service. Each one of our agents has certifications such as a degree in Travel and Tourism, CLIA and cruise line accreditations, multiple certifications in destinations, niche markets and methods of travel, not to mention the constant ongoing training they receive from TSU.
TSU Family Plans– This privilege allows members to enroll additional households under their member number. What a great gift!
Hotweeks – Available to all members, these deals are fantastic! Up to 80% off, these condo listings are available 24 hours a day on our website. Sixty day, thirty day and advanced specials are for members only. This is not the only inventory we receive.
TSU Total Travel – Cruises, tours, land/air packages, all-inclusive, hotels, cars, and attractions.
Brochure Service – We offer all of our members free brochures from any destination you are interested in. Trying to select where you would like to go? Call us and tell us what type of vacation you would like and our agents will put together a special package of brochures and have them mailed to you immediately! Please note that DVD's and maps are not available for every destination, but if we have them you will be sure to receive them in your package!
Monthly Newsletter – In the first week of the month all of our members with a current email address will receive our monthly newsletter. This newsletter can also be found HERE. You can read in depth articles on the latest news in travel, find exciting travel offers and win fantastic prizes.Make sure you play the game in the back of the newsletter for chances to win items such as $100 off your next condo vacation as well as gift cards to popular restaurants and shopping.
Special Offers – Several times a month our members will receive special offers via email. These offers include great savings on cruises, all-inclusive, vacation packages and more!
Customer Service – Our travel agents are skilled, knowledgeable and experts in their field.  We felt that in this industry we must go beyond the Dot Com travel sites and revolutionize the way we think about travel (and how we book it). In the current economy we wanted to provide job opportunities to those who are passionate and love this industry. We put our agents through a series of test, interview their references and put them through intense training for them to be able to call themselves a Travel Broker Concierge!
Availability For Sale