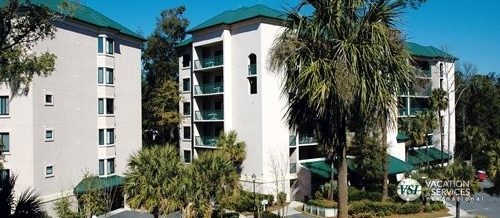 Location:
Hilton Head Island, SC
A resort within itself, Waterside by Spinnaker has the convenience of a full-scale resort without the crowds. Featuring the largest aquatic facility on Hilton Head Island, Waterside offers several pools, a hot tub and spacious villas. Its proximity to the Atlantic Ocean also makes Waterside a popular destination. From resort sponsored on-site activities to a round of golf, Waterside has activities for all ages and all interests. Family and friends may reach guests at the resort by calling direct: 843/341-4242.
Amenities:
Pool
Children's Pool
Whirlpool/Hot Tub
Games Room
Handicapped Accessible
Elevator
Availability For Rent
ID
Bedrooms
Price
VSI0002072207
2
$2200 per week 2

Usage: Annual Unit: TBA Week: 8/13/22

VSI0005181602
2
$4200

Usage: Annual Unit: TBA Week: Float

VSI0004141608
3
$2800

Usage: Annual Unit: TBA Arrival Date: 2017/04/08

VSI0002011606
3
$2000 Price negotiable

Usage: Annual Unit: TBA Week: 38

VSI0009221502
2
$2850

Usage: Annual Unit: TBA Week: Float

VSI0008031510
2
$1000 rent

Usage: Annual Unit: TBA Week: Aug 5, 2017- Aug 12, 2017
Notes: Week is August 5 2017 thru August 12, 2017. Golf package included. Both bedrooms have king size bed and own bathroom. Couch pulls out and makes a bed for 2 Everything furnished, sheets, towels, dishes, etc. 2 pools plus separate small pool for small children.

VSI09181401
3
$750

Usage: Annual Unit: 5741 Week: 46 Arrival Date: 2015/11/14
Notes: PRICE REDUCED, 3 Bedroom/3 bathroom, sleeps 8, unit at peak time, Gold Crown Resort. This unit is in the building across from the pool. 1650 sq. ft., balcony, covered parking, one of the largest aquatic facilities on Hilton Head, secondary large pool, children's pool and play area, lagoon gazebo and walkway, games room, activity center, BBQ area, wheelchair accessible, whirlpool, hot tub, 2 blocks from the beach, walk or shuttle available, washer and dryer in unit and complimentary in-unit wireless internet. Free golf (cart fee only) at Port Royal and Shipyard. Free tennis at Port Royal.
Availability For Sale
ID
Bedrooms
Price
VSI00011212320
3
$11,000

Usage: Annual Unit: TBA Week: 43

VSI00011142321
3
$25,000

Usage: Annual Unit: TBA Week: Float

VSI0010302306
3
$31,000

Usage: Annual Unit: TBA Week: Float

VSI00010172337
TBA
$11,000

Usage: Odd Unit: 5612 Week: 40

VSI0007112321
1
$12,000

Usage: Even Unit: TBA Week: Float

VSI0006272322
TBA
$18,000

Usage: Odd Unit: TBA Week: Float Points: ???

VSI0005092301
2
$24,900

Usage: Even Unit: TBA Week: Float

VSI0005022322
2
$6000

Usage: Odd Unit: TBA Week: Float Points: ???

VSI0005012311
3
$32,500

Usage: Annual Unit: TBA Week: Float

VSI0004182375
3
$20000

Usage: Annual Unit: TBA Week: Float

VSI0002032320
3
$21,500

Usage: Annual Unit: TBA Week: Float
Notes: Golf and Tennis Package

VSI00012142223
2
$10,000

Usage: Annual Unit: TBA Week: Float

VSI00012062246
3
$10,000

Usage: Annual Unit: 4102 Week: 41

VSI00012062242
2
$4000

Usage: Even Unit: TBA Week: Float

VSI00012062220
1
$12,000

Usage: Odd Unit: TBA Week: Float

VSI0008152207
3
$29,900

Usage: Annual Unit: TBA Week: FL

VSI0003292217
2
$5,000

Usage: Even Unit: 5344 Week: 35

VSI0003072215
2
$10,000

Usage: Odd Unit: TBA Week: Float

VSI00012302121
2
$8,000

Usage: Odd Unit: 5752 Week: 6

VSI0011152106
2
$13,500

Usage: Odd Unit: TBA Week: Float

VSI0008122146
2
$14,500

Usage: Annual Unit: 4536 Week: 14

VSI0008112159
TBA
$10,500

Usage: Annual Unit: TBA Week: Float

VSI0007122102
3
$9,900
VSI0003172122
2
$5999

Usage: Odd Unit: 5522 Week: 40

VSI0003032162
3
$13,000

Usage: Annual Unit: TBA Week: Float

VSI0011092004
3
$12,500

Usage: Annual Unit: 5413 Week: 17

VSI0011092003
2
$9000

Usage: Even Unit: TBA Week: Float

VSI0009082008
1
$21,900

Usage: Even Unit: 5733 Week: 14

VSI0012101901
2
$29,000

Usage: Annual Unit: 5224a Week: 20

VSI0007251902
3
$15,000
VSI0006111995
3
$9,500

Usage: Annual Unit: TBA Week: Float

VSI0005221907
2
$15,200

Usage: Even Unit: 5624 Week: Float

VSI0005031902
2
$10,000
VSI0004291996
2
$9,500

Usage: Annual Unit: 5214 Week: 11

VSI0004101901
1
$12,000 neg

Usage: Annual Unit: TBA Week: Float
Notes: week 1-11 and week 42-52 Winter

VSI0004051901
2
$22,900

Usage: Even Unit: 5614 Week: 27

VSI0003221909
2
$10,400
VSI0011191850
3
$23,500

Usage: Annual Unit: TBA Week: Float

VSI0003191901
2
$15,000

Usage: Annual Unit: TBA Week: Float
Notes: The owner has flex usage at any

VSI0003181910
3
$24,000

Usage: Annual Unit: TBA Week: Float

VSI0010231803
1
$14,000

Usage: Annual Unit: TBA Week: Float
Notes: Golf included

VSI0010191897
1
$6000

Usage: Even Unit: TBA Week: Float

VSI0010191806
3
$1000 neg

Usage: Even Unit: 5545 Week: 6

VSI0006121802
1
$15,900

Usage: Even Unit: 5424B Week: 27

VSI0005021807
3
$15,000 neg

Usage: Even Unit: TBA Week: Float

VSI00011071704
2
$5,000

Usage: Odd Unit: 5652 Week: 42

VSI0010241712
2
$29,900

Usage: Even Unit: TBA Week: Float
Notes: Unit 5831A

VSI0009281711
3
$22,900

Usage: Annual Unit: TBA Week: Float

VSI0004181710
2
$13,000

Usage: Annual Unit: 5752 Week: 41
Notes: Golf Package is included 2018 week is available to use.

VSI0002151705
3
$30,900

Usage: Annual Unit: TBA Week: Float

VSI0003311602
1
$16500

Usage: Annual Unit: TBA Week: Float

VSI0003161601
2
$7,000

Usage: Even Unit: 5534 Week: 7

VSI0001291612
1
$7500

Usage: Odd Unit: TBA Week: Float

VSI0012181501
2
$25,500

Usage: Annual Unit: 5231A Week: 41 or Prime Float
Notes: Golf Package Included

VSI0011091512
2
$17500

Usage: Annual Unit: TBA Week: 40

VSI0011061501
2
$2000

Usage: Even Unit: 5653 Week: 10

VSI0007171569
3
$8,000

Usage: Annual Unit: TBA Week: Float

VSI0007161501
2
$12500

Usage: Odd Unit: 15 Week: Float

VSI0005291501
2
$14,999

Usage: Odd Unit: TBA Week: Float

VSI0005191513
2
$31500

Usage: Annual Unit: TBA Week: Float

VSI0002041504
2
$4500

Usage: Odd Unit: 5642 Week: 5

VSI11201406
2
$10000

Usage: Annual Unit: 5734 Week: 11

VSI11131407
3
$15000

Usage: Even Unit: TBA Week: 19

VSI10091401
3
$23995

Usage: Annual Unit: 3218 Week: 39
Notes: Usage available 2015 Golf and Tennis privileges at Port Royal Golf and Racket Club. Health fitness club perks included as well.

VSI09051404
3
$18,000

Usage: Odd Unit: P3610 Week: 25
Notes: Float time ownership

VSI04291403
3
$19900

Usage: Annual Unit: TBA Week: Float

View Photos

VSI04291402
3
$17000

Usage: Annual Unit: TBA Week: Float

View Photos

VSI01291406
3
$9300

Usage: Annual Unit: TBA Week: Float

VSI01241401
3
$25900

Usage: Annual Unit: 5313 Week: 27
Notes: Negotiable.

VSI02151304
2
$17500

Usage: Annual Unit: TBA Week: FLoat

VSI02041307
2
$14900

Usage: Even Unit: 5743E Week: 41

VSI06111209
3
$15999

Usage: Even Unit: 5615 Week: 2
Notes: Usage is available immediately. Make an offer.

VSI09271111
1
$2499

Usage: Odd Unit: 5831B Week: Float
Notes: Pricing is negotiable

Show All