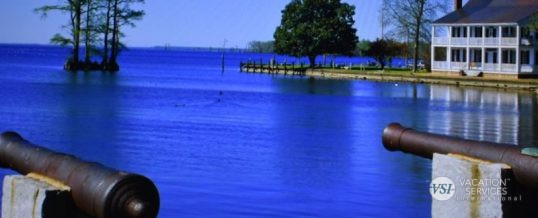 Location : Edenton, North Carolina
One of North Carolina's oldest towns, 300-year old Edenton, North Carolina, has an abundance of architectural treasures constructed in the 18th and 19th centuries that are open for daily tours. The town's proximity to waterways and the ocean makes for great wildlife-watching opportunities, so bring your binoculars.
Fresh local seafood can be enjoyed in area restaurants or be prepared and savored at Waterside, because its two- and three-bedroom villas have fully equipped kitchens. This luxury resort is located on the scenic Albemarle Sound in a private community, and every unit has living rooms, dining areas, washer/dryers and jetted tubs.
AMENITIES
Suite Amenities
2 Bedroom, 2 Bath Villas
3 Bedroom, 3 Bath Villas
Living Room
Dining Room
Fully Equipped Kitchen w/ Dishwasher
Wireless Internet Access
Cable TV
Washer & Dryer
Jetted Tub
Area Amenities
Local Artists
Shopping
Historic District
Architecture
Water Sports
Boating & Trailer Storage
Fishing
Beaches
Availability For Sale