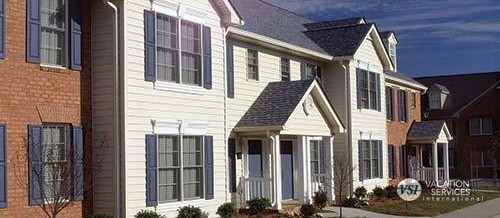 Location:
Williamsburg, VA
Surrounded by historical sites, the resort is just minutes from Colonial Williamsburg, Jamestown Settlement, Busch Gardens, and hundreds of years of Americana. Spacious units with private whirlpools and fireplaces accommodate the most sophisticated travelers in grand style. The Colonial American charm of Williamsburg Plantation makes it the perfect spot for a family vacation. Plantation amenities include a clubhouse, indoor/outdoor swimming pool, whirlpool, exercise room, tennis courts, and tot lot.
Amenities:
Air Conditioning (In Units)
Clubhouse
Cooking Facilities (In Units)
DVD or VCR (In Units)
Day Spa
Exercise Room, Equipped
Fireplace (In Units)
Laundry Facilities
Lock-Off
Playground
Swimming Pool, Indoors
Swimming Pool, Outdoors
Television (In Units)
Tennis
Wheelchair Accessible
Whirlpool Spa or Hot Tub
I am Ready to Purchase or Make an Offer
Availability For Rent
ID
Bedrooms
Price
VSI0001302327
4
$5000

Usage: Annual Unit: TBA Week: 25

VSI0001232315
2
$2500 per week

Usage: Annual Unit: TBA Week: FL Points: 180,000

VSI0010192001
2
$2100 per 2 week

Usage: Annual Unit: TBA Week: Float
Notes: Owners can book weeks at both Williamsburg Plantation and The Colonies at Williamsburg

VSI0002241543
2
$1200

Usage: Annual Unit: 19A Week: 32 Arrival Date: 2015/08/08
Notes: Make an offer.
Availability For Sale
ID
Bedrooms
Price
VSI0009262333
4
$13,000

Usage: Odd Unit: TBA Week: Float

VSI0008092303
4
$13,900

Usage: Odd Unit: 244AB Week: 26

VSI0008012323
1
$4500

Usage: Annual Unit: TBA Week: 47

VSI0006132313
4
$12,500

Usage: Odd Unit: TBA Week: Float

VSI0006122309
4
$15,900

Usage: Annual Unit: TBA Week: Float

VSI0005302304
4
$21,500

Usage: Annual Unit: TBA Week: Float

VSI0005162338
2
$???

Usage: Annual Unit: 21J Week: 52

VSI0005092327
4
$???

Usage: Annual Unit: TBA Week: Float

VSI0004242303
4
$21,900

Usage: Even Unit: TBA Week: Float Points: 104,000

VSI0003272320
4
$16,000

Usage: Triennial Unit: 219 Week: 15

VSI0003272301
2
$14,900

Usage: Even Unit: TBA Week: Float

VSI0003222303
4
$21,900

Usage: Even Unit: TBA Week: FL

VSI0003212334
TBA
$20825

Usage: Annual Unit: TBA Week: Float

VSI0002212321
4
$15,500

Usage: Even Unit: TBA Week: 47

VSI0002072333
4
$11000

Usage: Annual Unit: TBA Week: Float Points: 119000

VSI0012082202
4
$27,200

Usage: Annual Unit: 47ab Week: 36
Notes: Location! Location! Location! Williamsburg is one of the most visited and popular destinations in the USA.

VSI0011072205
4
$39,000

Usage: Annual Unit: TBA Week: 18

VSI00010252225
2
$7000

Usage: Odd Unit: TBA Week: 49

VSI0009192211
2
$15,500

Usage: Even Unit: TBA Week: FL

VSI0006292209
4
$33,000

Usage: Annual Unit: Jamestown Week: 35 Points: 130,000

VSI0002162204
4
$6500

Usage: Odd Week: 27 Points: 44500/yr
Notes: 4th of July week, 2+2 BR lockout

VSI0007272101
4
$15,500
VSI0006282103
4
$9500

Usage: Odd Unit: TBA Week: Float

VSI0005242102
2
$19,000

Usage: Even Unit: 206 Week: 15

VSI0004142104
4
$11,440

Usage: Even Unit: 247ab Week: 4

VSI0003302102
4
$22,900

Usage: Even Unit: TBA Week: 6

VSI0003222103
4
$12,000

Usage: Even Unit: TBA Week: Float

VSI0002012105
2
$36,000

Usage: Annual Unit: TBA Week: 22

VSI0001252106
4
$41,000

Usage: Annual Unit: TBA Week: Float

VSI0009022002
4
$10,000

Usage: Even Unit: 86ab Week: 39

VSI0003102001
4
$29,900

Usage: Odd Unit: TBA Week: 52

VSI0003062005
TBA
$2,100 *2

Usage: Annual Unit: TBA Week: Float

VSI0001212003
4
$31,000

Usage: Annual Unit: 107 Week: 17

VSI0012231903
4
$28,900

Usage: Odd Unit: TBA Week: Float

VSI0009191906
4
$29,500

Usage: Annual Unit: TBA Week: 27

VSI0009161903
4
$21,000

Usage: Odd Unit: 2550 Week: 52

VSI0007121902
4
$29,900

Usage: Annual Unit: TBA Week: Float Points: 173,000

VSI0008061905
4
$21,900
VSI0006271903
4
$8,500 neg
VSI0004091902
4
$24,900

Usage: Odd Unit: PTV Week: 34 Points: 206,875

VSI0002271906
4
$2,999 Or Best Offer!

Usage: Annual Week: 30
Notes: As part of the deal, the week of July 27 will be included

VSI0001181901
4
$17,900 neg

Usage: Triennial Unit: TBA Week: Float
Notes: Close to Virginia Beach, Navy bases, and NASA

VSI0012271807
2
$15,200

Usage: Even Unit: TBA Week: Float
Notes: Golf Discount Pet allowance

VSI0006061809
2
$12000

Usage: Annual Unit: Yorktown bldg Week: 34 Points: 177,250

VSI0006011806
4
$18,900

Usage: Odd Unit: TBA Week: Float

VSI0003061804
4
$14,500

Usage: Odd Unit: TBA Week: 20
Notes: 2019 Start

VSI00011071701
2
$999

Usage: Even Unit: 160 A/B Week: 29

VSI0008301703
4
$14,000

Usage: Odd Unit: TBA Week: 19 Points: 172,372

VSI0002221705
2
$21,000

Usage: Odd Unit: TBA Week: 17

VSI0005241601
4
$18000 Price Negotiable

Usage: Odd Unit: TBA Week: 44

VSI0004251615
2
$16000

Usage: Triennial Unit: TBA Week: Float

VSI0004121605
4
$32000

Usage: Even Unit: 67AB Week: 46

VSI0004111616
4
$12000

Usage: Odd Unit: TBA Week: FLoat

VSI0003301602
4
$10500

Usage: Even Unit: TBA Week: Float

VSI0009291503B
4
$8,700

Usage: Even Unit: A/B Split Week: Float
Notes: This unit could also be split into separate units!

VSI0008241509
4
$16000

Usage: Odd Unit: TBA Week: 52

VSI0006081501
4
$16500

Usage: Even Unit: TBA Week: 21

VSI0004211504
4
$15000

Usage: Odd Unit: TBA Week: Float

VSI0002171593
4
$22,500

Usage: Annual Unit: TBA Week: Float

VSI0001201502
2
$10,999

Usage: Triennial Unit: TBA Week: Float Points: 147750
Notes: Paid off

VSI11041499
4
$6,000

Usage: Annual Unit: TBA Week: 40

VSI05201406
2
$9900

Usage: Annual Unit: TBA Week: 16

VSI02261404
2
$5500

Usage: Even Unit: 258 Week: 43
Notes: Make an offer.

VSI02201402
4
$8500

Usage: Even Unit: 258A & 258B Week: 43
Notes: Negotiable

VSI10231302
4
$15000

Usage: Even Unit: TBA Week: 28
Notes: Make an offer.

VSI10171313
4
$14900

Usage: Odd Unit: 116A Week: 10

VSI09041310
4
$18500

Usage: Even Unit: AB Week: 5

VSI05131308
4
$34000

Usage: Annual Unit: TBA Week: Float

VSI04171305
4
$21000

Usage: Triennial Unit: TBA Week: 39 Points: 118250

VSI04161301
4
$17900

Usage: Odd Unit: TBA Week: 25

vsi08311295
4
$35850

Usage: Annual Unit: tba Week: 29

VSI05181207
2
$9999

Usage: Odd Unit: TBA Week: Float
Notes: Pricing is negotiable. Make an offer.

VSI04261201
4
$1

Usage: Annual Unit: 270 A&B Week: 43
Notes: Pricing is negotiable. Make an offer.

VSI04231205
4
$19999

Usage: Even Unit: TBA Week: Float

VSI03131208
2
$20900

Usage: Annual Unit: TBA Week: Float

VSI01041207
2
$14900

Usage: Even Unit: AB Week: 51

Show All