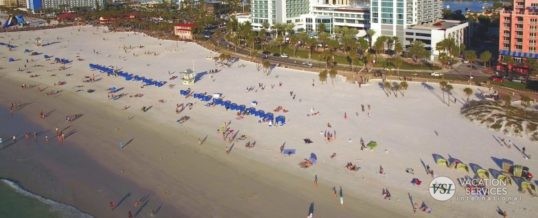 Location: Clearwater FL
Clearwater Beach ranks #1 once again on America's Top 25 Beaches for 2018 by popular travel site TripAdvisor! Experience it all at beautiful Wyndham Clearwater Beach Resort and see what everyone is talking about. Just outside, you will be met with exquisite sunsets, white sandy beaches, blue waters, incredible shopping, cultural museums and world-class dining – all along the coast of the Gulf of Mexico. This resort is just 25 minutes from the Tampa Airport, with easy access to I-75, Tampa, Sarasota and St. Petersburg, and only an hour's drive to Orlando. Lounge, play and soak up rays while you explore the incredible underwater coral formations of the Gulf. Rent a sailboat, surf the waves or go fishing. Enjoy nature trails, sports fields and playgrounds, or have a picnic and relax with your toes in the sand.
These spacious deluxe and presidential suites are fitted with all the necessities to make this your home away from home, including private bedrooms, separate living areas, a full kitchen, spa amenities, and the convenience of a washer/dryer. Whether you're here for a beach getaway, a family vacation or a business meeting, this resort offers a refreshing blend of warm Southern hospitality, high-tech capabilities and an inviting ambiance for relaxing, working, meeting, playing, dining and exploring the natural beauty of Clearwater Beach.
Downtown attractions are just a short ride away, including Clearwater Marine Aquarium, Pier 60, The Dali Museum, Florida Botanical Gardens, Busch Gardens® Tampa Bay and countless golf courses. With a multitude of restaurants serving the freshest cuisine, Clearwater has become a foodie haven with plenty of local bars and nightclubs to keep you entertained 'til the wee hours.
In addition to the beautiful beachfront access and ocean views, Wyndham Clearwater Beach Resort has an array of lifestyle amenities for a fantastic beach getaway. Along with friendly staff and concierge, you'll be delighted by the sparkling pool with sundeck, private cabanas, hot tub and outdoor bar & grill. The state-of-the-art fitness room and full-service spa will relax your mind, body and soul. Enjoy Asian-fusion cuisine at the Ocean Hai Restaurant, or order room service from the comfort of your suite.
Availability For Rent
Availability For Sale