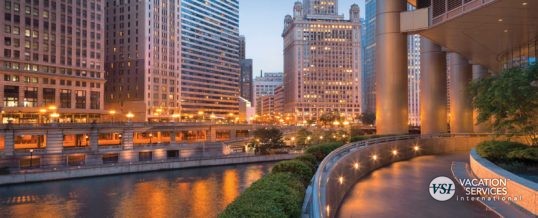 Chicago, IL
Located on the Magnificent Mile. Industry and creativity converge in Chicago, the birthplace of the skyscraper. Experience the vibrancy of downtown Chicago and delight in the modern, sleek comfort of Wyndham Grand Chicago Riverfront — an intimate haven on The Magnificent Mile — offering chic accommodations in an exceptional setting. Just outside your door is Chicago's premier shopping avenue with over 450 luxury boutiques, world renowned department stores and specialty stores. Many of the Windy City's landmark attractions, museums and theaters are located within walking distance and Wrigley Field, home of the Chicago Cubs is just a short ride away using the nation's second largest transportation system.
24-Hour Fitness Center
Restaurant
Day Spa
Massage Services
Bar/Lounge
Café
Some amenities are available at an additional charge.
24-hour business center
Virtual concierge
Parking at the resort is $65 nightly and hourly during the day. No hourly nighttime rate is available. All parking charges are automatically posted to the unit. Payments with cash or credit can be made at any time for parking.
Bringing a car on your vacation to Wyndham Grand Chicago Riverfront is not recommended; many visitors to Chicago choose to use the city's robust public transportation options to enjoy area activities.
Luggage delivery service available for a fee through Bags VIP.
Same-day laundry and dry cleaning.
Available under a long term lease through 2037. This resort is currently undergoing renovations.
Owners may experience other units within the building that contain pets due to hotel-unit policies, but pets are not permitted in the CLUB WYNDHAM units and areas.