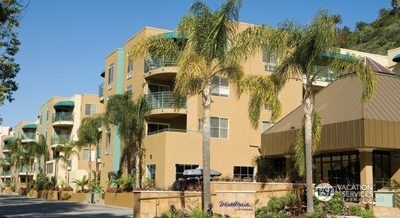 Location:
San Diego, CA
San Diego is known for its year-round sunny skies, pleasant temperatures, and beautiful beaches. And now, right in the middle of it all, WorldMark San Diego -Mission Valley is ready to host you in one of the greatest cities in California.
Your new resort—located in the quiet San Diego suburb of Mission Valley—consists of 167 one- and two-bedroom units, each with a fully equipped kitchen. Resort amenities include a pool, spa, exercise facility, and free underground parking.
You may want to block off some time for Balboa Park—only 4.5 miles from the resort. The park is akin to San Francisco's Golden Gate Park or New York City's Central Park and is, in fact, the nation's largest urban cultural park, coming in at 1,174 acres. With eight gardens, 15 museums, nine restaurants and cafes, a golf course, the San Diego Zoo, a puppet theater, golf course, and the world's largest outdoor organ (and this isn't even a close to a complete list), you could do something different in Balboa Park every day for the next two months.
I am Ready to Purchase or Make an Offer
Availability For Sale