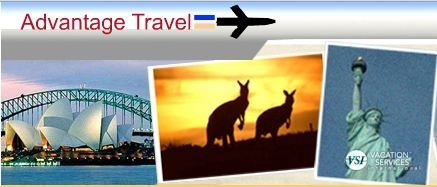 Established in 1990, Advantage Travel has evolved from a small, local office to a global enterprise with 21 employees, world-wide contacts and exceptional relationships with domestic and international air carriers.
Specially Negotiated Contracts
Specially negotiated contracts have made Advantage Travel a major wholesaler in the specialized market of study abroad travel, and those same contracts benefit all of Advantage Travel's valued clientele. They allow us to offer innovative, cost effective solutions for corporate, leisure and student travelers.
Superior Staff
Advantage Travel agents are extensively trained, well-traveled and highly professional. While technological advances have altered the world of travel since we first opened our doors, the values we embrace have not. You can still expect to be serviced by caring, attentive travel experts who are commitment to excellence and uncompromised integrity.
Global Experience
Advantage Travel's agents have called Spain, Italy, France, Hungary, Austria, Germany, Switzerland and Australia home and have collectively journeyed to almost every corner of the world. Although their interests are varied, our staff shares a love of travel and they're dedicated to sharing their own experiences to enhance yours.
Multi-Lingual Capabilities
Advantage Travel agents are fluent in French Italian, German, Hungarian and Spanish; so whether you require theatre tickets in Milan, accommodations in Seville or restaurant reservations in Budapest, there'll be someone on-staff that is ready and willing to assist you.
Availability For Sale