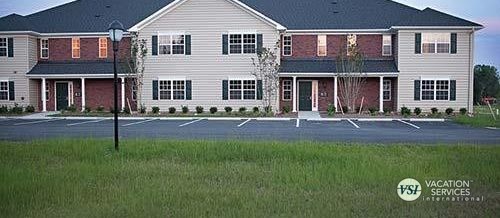 Location:
Williamsburg, VA
The Colonies at Williamsburg is located in James City County, Virginia, which is known for its history. The resort offers spacious accommodations and amenities including a large clubhouse with a fitness room, activities room, indoor pool, tennis courts, and a seasonal outdoor pool with water park features and a separate whirlpool. In the area are Colonial Williamsburg, Jamestown Settlement, Yorktown Battlefield and Victory Center, Busch Gardens, and Water Country USA. Also nearby are more than 100 outlet stores and numerous championship golf courses.
Amenities:
Air Conditioning (In Units)
Clubhouse
Cooking Facilities (In Units)
DVD or VCR (In Units)
Exercise Room, Equipped
Fireplace (In Units)
Laundry Facilities
Lock-Off
Playground
Swimming Pool, Indoors
Swimming Pool, Outdoors
Television (In Units)
Tennis
Wheelchair Accessible
Availability For Rent
ID
Bedrooms
Price
VSI0001302328
4
$5000

Usage: Annual Unit: TBA Week: 32

VSI0011282202
4
$6000

Usage: Annual Unit: TBA Week: 27

VSI0009192201
2
$2400 per week (2)

Usage: Annual Unit: TBA Week: FL

VSI0001221909
2
$2,100
VSI0004291503
2
$2500

Usage: Annual Unit: TBA Week: Float
Notes: 2 Weeks available.
Availability For Sale
ID
Bedrooms
Price
VSI0008292302
4
$35,000

Usage: Annual Unit: TBA Week: Float Points: 210,000

VSI0008092309
4
$8500

Usage: Triennial Unit: TBA Week: Float

VSI0005162336
TBA
$???

Usage: Annual Unit: TBA Week: Float

VSI0004102316
4
$14,000

Usage: Odd Unit: TBA Week: FL

VSI0012272207
4
$31,900

Usage: Annual Unit: TBA Week: FL

VSI0012082201
4
$13,900

Usage: Odd Unit: 97AB Week: 16 Points: 150,000

VSI0007262203
4
$49,900

Usage: Annual Unit: A/B Week: 31 Points: 210,000

VSI0002012202
2
$28,500

Usage: Annual Unit: TBA Week: Float

VSI0011232107
4
$42,900

Usage: Annual Unit: TBA Week: 43

VSI0011222101
4
$42,900

Usage: Annual Unit: TBA Week: 16

VSI0005242104
4
$33,900

Usage: Annual Unit: a/b Week: 33

VSI0001252107
4
$39,000

Usage: Annual Unit: TBA Week: Float

VSI0009082009
2
$11,900

Usage: Annual Unit: TBA Week: 50

VSI0002102003
4
$19,900

Usage: Even Unit: TBA Week: 37 Points: 140,000

VSI0010071905
4
$35,900

Usage: Annual Unit: TBA Week: 24 Points: 210,000

VSI0010071902
4
$41,900

Usage: Annual Unit: TBA Week: 23

VSI0007161901
4
$20,900

Usage: Annual Unit: TBA Week: 22

VSI0007121902
4
$12,900

Usage: Odd Unit: TBA Week: 6

VSI0006121902
2
$36,900

Usage: Annual Unit: AB Week: 14 Points: 140,000
Notes: 245,000 banked points

VSI0005241988
4
$14,500

Usage: Annual Unit: TBA Week: Float Points: Yes

VSI0011191852
2
$8500

Usage: Even Unit: TBA Week: Float Points: 35,000

VSI0001091806
2
$19,900

Usage: Annual Unit: TBA Week: Float Points: 70,000
Notes: 2018 Usage Platinum Time Deeded week 18 Unit

VSI0005301703
4
$21,000

Usage: Even Unit: TBA Week: 41

VSI0002221706
4
$32,900

Usage: Annual Unit: TBA Week: 22 Points: 210,000

VSI0001129160097
4
$31,900

Usage: Annual Unit: TBA Week: 43

VSI0005161615
4
$30900

Usage: Annual Unit: TBA Week: Float

VSI0004171602
TBA
$16500 Price Negotiable

Usage: Annual Unit: 30A/B Week: 15
Notes: Unit can be either a 4 bedroom, sleeps 12, or two 2 bedroom units

VSI0003101601
4
$49900 Price negotiable

Usage: Annual Unit: TBA Week: Float Points: 210000

VSI0002291605
4
$15,000

Usage: Even Unit: 181 Commonwealth Villa Week: 49

VSI0002211605
4
$4000

Usage: Odd Unit: TBA Week: 8
Notes: This property is essentially brand new!!!

VSI0006221504
4
$26000

Usage: Annual Unit: 42 Week: 42

VSI0004061506
4
$8000

Usage: Odd Unit: 118AB Week: 52 Points: 115,500
Notes: This property can be exchanged for 115,500 points with Interval International every other year! Week 52, 2017 will be available for exchange in January 2017 for 115,500 points . These points are exchangeable for any Interval International vacation destination until January 2020. Make an offer.

VSI11041498
4
$6800.00

Usage: Annual Unit: TBA Week: 34

VSI10111303
2
$9,200

Usage: Annual Unit: 50AB Week: 8
Notes: 2 bedroom with a 4 bedroom option every even year

VSI09041202
4
$36900

Usage: Annual Unit: TBA Week: Float

VSI09231104
4
$32000

Usage: Annual Unit: 117AB Week: 41
Notes: Make an offer.

Show All