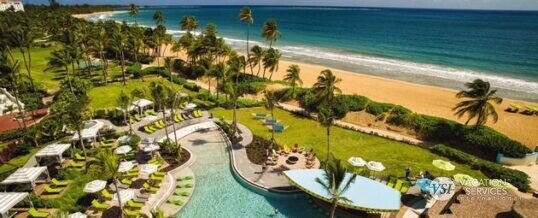 Prepare to experience paradise wrapped in the Margaritaville® lifestyle at Wyndham Rio Mar. This delightful tropical escape — tucked between verdant rainforest and golden sands — is located on the grounds of the stunning Wyndham Grand® Rio Mar Beach Resort & Spa. Just 30 miles outside historic Old San Juan, this fabulous resort is your perfect hideaway filled with stimulating activities … and plenty of not-so-active pursuits.
Lushly landscaped in harmony with the island and neighboring El Yunque Rainforest, this Margaritaville Vacation Club® by Wyndham resort features 500 acres of perfect pleasures. When the music calls, head to your own tropical oasis — a glistening pool, hot tub and gently swaying hammock — to sip a salty Margarita or LandShark Lager. Once you've indulged in just about every delight here and at Wyndham Grand Rio Mar Beach Resort & Spa — including luxury spa treatments, a round of golf, casino action, boutiques and 10 different restaurants, lounges and entertainment venues — celebrate doing absolutely nothing at all as you stake out a spot on the mile-long stretch of golden beach or enjoy the perfect boat drink at the swim-up bar.
Return to the haven of your tropical-themed suite, and put your feet up on your private balcony or patio. Choose from among studio, 1-bedroom and 3-bedroom ocean- or mountain-view accommodations, each one featuring a full or mini-kitchen and a bar area stocked with a Frozen Concoction Maker®. This is living your own version of paradise.
Our favorite things to do at Wyndham Rio Mar:
Resort Amenities
Hang out in a hammock by the pool and order something special from the swim-up bar.
There's always the tiki-style 5 O'Clock Somewhere Bar
Hotel Amenities*
Wander on down to the beach and do nothing, possibly from a cabana. Or maybe some water sports. Play — or watch — some beach volleyball.
Spend half a day at the spa getting a massage (alone or with the significant other), then get your hair, nails, feet face and body completely pampered. Leave feeling 10 years younger.
Take a golf lesson from one of the pros, then try it out on either the River or Ocean golf course — or both.
Visit the Tennis Center, pick from one of the 13 tennis courts, and sign up for a singles or doubles tournament. (Practice the night before on one of the lighted courts.)
Raise your heart rate playing slots, blackjack, poker and more in the Casino.
Walk, jog or bike the many miles of nature trails.
Choose from among 10 restaurants in a variety of settings, offering a world of delights for every palate.
Availability For Sale